One Feather Staff Report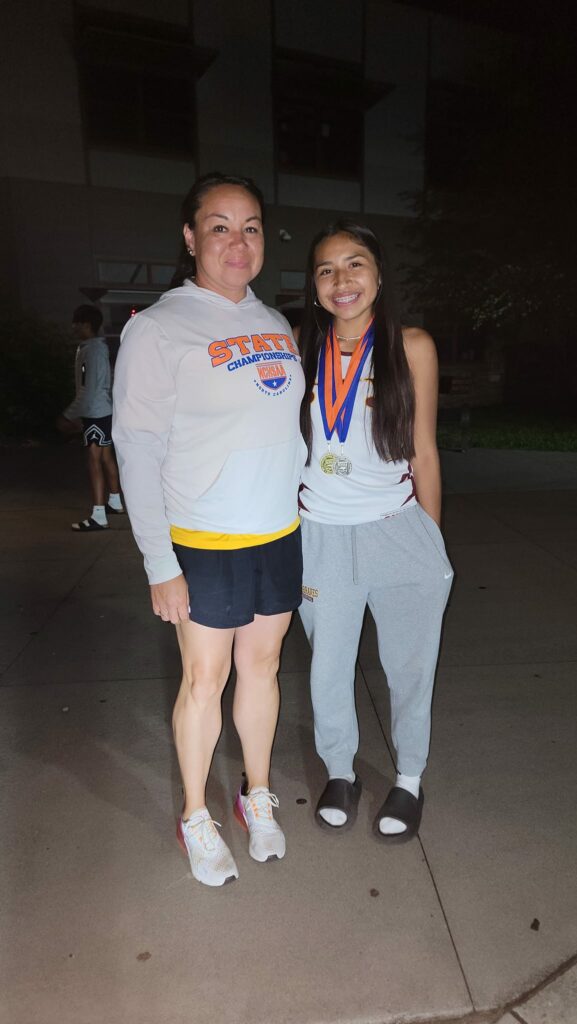 GREENSBORO, N.C. – Dvdaya Swimmer, a freshman member of the Cherokee High School (CHS) track and field team, won the women's 800M (2:19.71) at the NCHSAA (North Carolina High School Athletic Association) 1A State Championship held at the N.C. A&T Irwin Belk Track in Greensboro, N.C. on Friday, May 19.  She also took second place in the women's 1600M with a time of 5:09.12.
Cherokee's Jaylan McCoy-Bark, a senior who has committed to run at Haskell Indian Nations University, took second place in the men's 1600M with a time of 2:01.66.
The Swain Co. Lady Maroon Devils won their third consecutive state team title, and the Swain Co. Maroon Devils took runner-up on the men's side.  Both of Cherokee's teams placed seventh in the team event.  In all, there were 44 men's teams and 43 women's teams.
The following results, per nc.milesplit, shows the Smoky Mountain Conference athletes who placed in the top four, plus all CHS finishers, at Friday's meet:
Men's Events
800M Run
3 – Connor Brown, Swain Co., 2:00.78
4 – Jaylan McCoy-Bark, Cherokee, 2:01.66
1600M Run
2 – Jaylan McCoy-Bark, Cherokee, 4:29.62
3 – Connor Brown, Swain Co., 4:31.09
3200M Run
3 – O'Malley Salinas, Andrews, 9:58.89
6 – Tyce Hogner, Cherokee, 10:17.63
110M Hurdles
1 – Brock Adams, Robbinsville, 15.11
3 – Austin Jenkins, Swain Co., 15.23
300M Hurdles
1 – Brock Adams, Robbinsville, 40.50
4x800M Relay
1 – Swain Co., 8:17.69 (Abhi Patel, Connor Lambert, Conner Brown, Kane Jones)
4 – Cherokee, 8:26.26 (Jaylan Bark, Anthony Lossiah, Oz Swayney, Aizen Bell)
Pole Vault
1 – Matthew Gray, Swain Co., 16-06
Discus Throw
2 – Nse Uffort, Swain Co., 165-07
5 – Kensen Davis, Cherokee, 139-06
7 – Luke Smith, Cherokee, 135-11
Shot Put
4 – Kensen Davis, Cherokee, 50-00.25
Women's Events
200M Dash
5 – Letsi Burgos, Cherokee, 26.72
800M Run
1 – Dvdaya Swimmer, Cherokee, 2:18.71
2 – Arizona Blankenship, Swain Co., 2:22.27
3 – Annie Lewis, Swain Co., 2:22.81
1600M Run
1 – Arizona Blankenship, Swain Co., 5:01.10
2 – Dvdaya Swimmer, Cherokee, 5:09.12
4 – Annie Lewis, Swain Co., 5:25.16
3200M Run
1 – Arizona Blankenship, Swain Co., 10:56.58
4 – Annie Lewis, Swain Co., 11:52.24
4x800M Relay
1 – Swain Co., 9:45.27 (Annie Lewis, Gracie Monteith, Amaya Hicks, Arizona Blankenship)
High Jump
1 – Zoie Shuler, Robbinsville, 5-04
2 – Gracie Sutton, Swain Co., 5-04
Long Jump
1 – Zoie Shuler, Robbinsville, 17-04
Triple Jump
1 – Zoie Shuler, Robbinsville, 37-02.25
3 – Ella Matheson, Hayesville, 32-10.50
Pole Vault
1 – Amelia Rogers, Swain Co., 11-00.25
3 – Hannah Wingate, Swain Co., 9-00
4 – Alden Thomas, Swain Co., 9-00
Discus Throw
3 – Alexis Smith, Cherokee, 104-04
4 – Lily Trout, Hayesville, 102-00
Shot Put
4 – Faith Woodard, Swain Co., 34-09.75