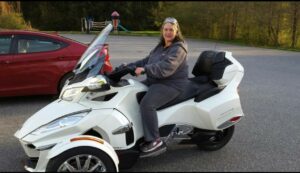 Mary Ann Lambert, 58, of Cherokee, passed away on Thursday, April 27, 2023, at her residence. She was born on Monday, Sept. 14, 1964, in Lakeland, Fla., the daughter Bessie Murphy Hampton and the late Frank Hampton.
Mary and Willie were married 40 years.  She worked for Cherokee Tribal Police Dept. for 28 years and retired with a rank of Lt. Investigator.  Her family was the cornerstone of her life and her grandchildren were the light of her life.  In her spare time, she enjoyed sewing, and was active with the Holyrollers, the Cherokee Bible Church's Riders Group.  She was a 3rd Degree Black Belt in Judo and held a 1st Degree Black Belt in Karate.  She was a National Championship winner in Judo in 2000.
In addition to her mother, she is survived by her husband William "Willie" Lambert; two sons, William Franklin Lambert "Willie" (Amber) and Johnny Lambert (Paiten); grandchildren, Isabel, Chloe, Brylee, Millie, Abel, and Clay; two sisters, Rose Tyer (Kenneth) and Joy Bowden (Johnnie); and many nieces and nephews.
She is preceded in death by her son Richard Lambert and a brother Harvey Lee Hampton
A Memorial Service will be held on Thursday, May 4 from 2 p.m. to 3 p.m. at Cherokee Bible Church 1112 Olivet Church Road, Cherokee.  The family will receive friends an hour prior to the service.