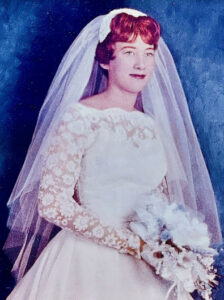 Rosalie Lewis passed away at Novant Presbyterian Hospital on the evening of Saturday, Jan. 21, 2023, due to complications from flu-related pneumonia. Her 17-day battle with the illness was a true testament to her mental and physical strength.
She was thankful to all the healthcare professionals who provided her with such loving care.
Sarah Rosalie Cabe Lewis was born Oct. 30, 1945. She was a member of the Birdtown community. She was the daughter of the late James Crawford Cabe and Mary Jo Cooper Cabe Plott.
She is preceded in death by her husband, George "Scroop" Lewis, Jr. and her brothers, Max Cabe and James Cabe. She is survived by her daughters, Susan Lewis Westbrook and Angie Lewis, and their spouses, James Westbrook and Jessika Lewis. She is also survived by her sisters, Bonnie Smart and Becky Bristol; nieces, Amber Palmer and Alicia Cledaras; nephews, Max Cabe Jr., Todd Cabe, Jimmy Brendle, Tommy Cabe, Terrance Cabe, Tony Cabe, and Jeff Cabe; and her found family, friends Mona and Sam Hyde, Melissa Watkins, Connie Crisp, and Billy Freeman.
Rosalie (a perfectly fitting name for this fiery redhead) grew up in Cherokee and was a Homecoming Queen and 1963 graduate of Swain County High School. When she was in high school, she met the love of her life, George "Scroop" Lewis, Jr., while he was working at Wonderland theme park. They married and eventually resided in Maggie Valley for several years before returning home to Cherokee in their thirties. While living in Haywood County, she worked for Mountain Projects as a coordinator for high school work programs. She was also a chair of the Democratic Party there and remained a lifelong Democrat. She believed in being informed and always kept up with local politics and news.
Rosalie loved watching sporting events and never missed a game of her beloved Atlanta Braves. She loved classic country music, family road trips, sweet tea, and being with family. She was very generous and supported a different charity each year.
Rosalie loved all people but especially the black sheep or those who struggled in their lives. She did so because she considered herself to be a black sheep as she had her own mental health diagnosis of bipolar disorder, which was crippling for decades. It led to depression and her abuse of alcohol and controlled substances. She was proud to be an example of someone who gained sobriety and triumphed over these issues by stopping the use of alcohol and physician-prescribed opioids for real medication which dealt with her depression and bipolar. Her children were always on her mind, and she phoned them very often to see what they were doing or if they might be able to pick some pasta salad from Lulu's for her if they were going in that direction sometime during the day. She hated fish sticks and White Castle food and would hang up the phone if anyone jokingly said that they would pick up a hamburger from White Castle for her. She loved the Christmas season and had a tradition of watching the movie "Christmas Vacation" every year with family. Her favorite thing was the annual family summer beach trip to Tilghman in North Myrtle Beach. Rosalie loved hanging out on the balcony and taking in the sights and the people. She started a music party at the pool once where some people on the balcony above may or may not have gotten undressed and danced around. She also loved being chauffeured around in the big truck to get her hair and nails done. Rosalie was mischievous, and one never knew what she was going to say or do, but she was always entertaining. When she told you that she loved you, she meant it. She was legendary for her Maggie Valley women's "Tupperware" parties, which Dad later told us were actually pot parties with a few sales of Tupperware on the side.
There is so much to say about this complex woman, but it really boils down to this: she loved her life and everyone in it. She wanted others to love their lives until their last breath and forgive people along the way, as we are all human. Let her legacy be that going forward you love everyone close to you as deeply as you can and never give up on those who haven't found their way yet.
The family will receive friends at 2 p.m. on April 30, 2023, in the chapel of Long House Funeral Home in Cherokee. Visitation will be followed by a short service which will celebrate her life. A private family dinner will be held after the service. The delay in this service is out of respect for elders and healthcare professionals during this very difficult season of flu and Covid illnesses. In lieu of flowers please donate to local foster children, nursing homes, animal charities, and cancer charities as Rosalie did.
Long House Funeral Home assisted the family with final arrangements.