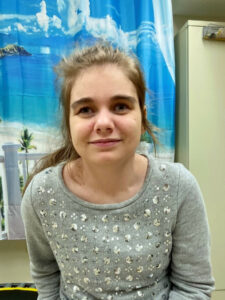 Kaitlyn "Katy" Cree Muzzy, 27, of Sylva passed Friday, Jan. 20, 2023. Katy is survived by her mother, Dorothy Sue Boardman; sisters, Lonna McCullen Bennet and Emily Bridge Wallace; and best friends, Kelsey Bradley and Callie Fearrington.
Katy attended Person First Services of Sylva where she loved being with her friends. Katy was a beautiful soul inside and out. She loved the simple things in life; music, swinging, bouncing on her ball, shopping, dancing, and being loved by her girls and mom. The love she reciprocated will be cherished forever.
"Angels come down, from the heavens. Just to help us on our way. Come to teach us, then they leave us, and they find some other soul to save." – Chris Stapleton
Katy was an angel to those that embraced her.  Her light will always shine through.
Long House Funeral Home assisted the family with final arrangements.