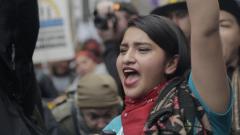 Andreanne Rose Catt, a daughter of the Eastern Band of Cherokee Indians and the Sicangu Lakota Nation. Daughter of the late Rochelle Rae Walking Eagle and Boyd Andrew Catt (Andrew Iron Shell). Andreanne was born during a fierce summer storm that knocked the lights out in Valentine, Neb. on July 16, 1999. She made her spirit journey home from Mni Luzahan, Lakota territory on Jan. 12, 2023.
Andreanne's youth was on the Sicangu Nation, Box Elder, S.D. and Little Wound, S.D. where she attended Little Wound High School. In her adult years she resided in Rapid City with her hunka mom, Amy Jumping Eagle and Andreanne's beloved Sisters.
Andreanne answered the call to all water protectors and is a veteran of the DAPL fight at Standing Rock. It is there she found her calling, her voice as a community organizer, a generation builder through action. The International Indigenous Youth Council rose from Standing Rock as Andreanne is one of its founding members. Andreanne took an active role in the building of the Thunder Valley CDC Regenerative Community Development on Pine Ridge as well supported and volunteered with the social justice work at NDN Collective. A powerful advocate for our LGBQ community, as well, was a non-violent direct action trainer with the Native Organizers Alliance/Promise to Protect fight against KXL Pipeline. Andreanne held candlelight vigils for our Missing and Murdered Indigenous Women, volunteered in looking for missing in Rapid City and lived a life of service to her family and community. Her kindness, her laughter and her counsel will be greatly missed by all. Our family appreciates all who have offered prayers and support.
Andreanne is survived by her father, Boyd Andrew Catt; paternal grandmother, Shirley Catt-Iron Shell; brothers, Terrell (Kakeka Thundersky), Phillip, Issac, and Camrin Carter Catt, Moses Kvandal, and Tristan Walking Eagle; sisters, Kasey Catt, Wamni Kvandal, Wilhelmina Jumping Eagle, Rose Jumping Eagle (Charles Camp), Amaris Bull Bear, Bobbie Rose Gibbons-Ruiz, and Amber Yellow Bull; nieces, Riot Catt, Tokala Thundersky-Catt, Jeannette Bull Bear, Mariana Pena, Rhaynnie Squirrel Coat, Gabriella Standing Soldier, WoweCake Camp, Layla Bear Saves Life; and nephews, Akicita Catt, Victor Jumping Eagle, Henry "Hank" Squirrel Coat, Marcayous Squirrel Coat, and Charles Thunder Bull, Jr.
Andreanne was preceded in death by her mother, Rochelle Walking Eagle; maternal grandmother, Mary Lou Walking Eagle; maternal grandfather, Gerald Sharpfish, Sr.; grandfather, Eugene Iron Shell, Sr.; uncles, Lionel and Lloyd Walking Eagle; auntie, Nancy Walking Eagle; and cousin, LaVern Stewart.
Pallbearers will be Amaris Bull Bear, Wilhelmina Jumping Eagle, Joey Provancial, Nina Berglund, Charles Camp, Claire Bear Saves Life, Charles Thunder Bull, and Nate Iron Shell.
Honorary Pallbearers will be Faith Spotted Eagle, Nick Tilsen and Family, All International Indigenous Youth Council Chapters, Water Protectors, Black Snake Killaz, Jumping Eagle Tiospaye, White Plume Tiospaye, Victorio Camp, NDN Collective, All Ponca Tiospaye, Luke Cloudman, Kianna Cloudman, Mark Cloudman, Alva Angel, Sonao Mana, Vivi Amiztli, Yolanda Arguello, Melaine Stoneman, Judith LaBlanc, Madonna Sitting Bear, Tomas Lopez and Family, Alexandra Red Eagle, Calvin Iron Shell III, Shanice Provancial, Harmony Lambert, Chief Leonard Crow Dog Jr. SHARK, Roberta Spencer and Family, Amy Jumping Eagle, Margelyn Shoulders, Leroy Gevara, Lynn Thunder Bull, Martin Black Tail Deer, Leo Takes War Bonnett Jr. Leo Takes War Bonnett III, Paul John Red Cloud, Tiara Clifford, Katherine (Dio) Red Cloud, John Clifford, Gloria (George) Red Cloud, Shay and Jace Armajo, Matthew Yellow Bull, James Iron Shell, Maurice Rebiex, Karen and Harold Porter, Carlos Terrazo, Fred Menard and Family, William Steele and Family, All Crow Dog's Paradise Sundancers, and all friends and relatives.
Wake Services: One night wake service starting at 2 p.m. on Sunday, Jan. 22 at the Ama's Freedom School at Kiza Park near Manderson, S.D.
Funeral Services: 2 p.m., Monday, Jan. 23 at the Ama's Freedom School at Kiza Park near Manderson, S.D.
Officiating: Roberta Spencer
Traditional Lakota Services: Moshanaposhe Camp
Burial Services: To Be Announced
Arrangements entrusted with Sioux Funeral Home of Pine Ridge, S.D.