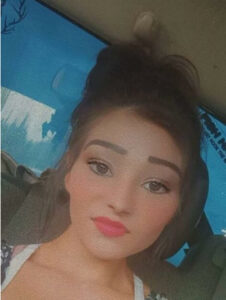 Adriana Nicole Garcilita, age 24, passed away unexpectedly on Sunday, Jan. 15, 2023.
She is survived by her son, Jordan Watts; mother, Roberta Wolfe; father, Vicente Garcilita; sister, Reyna Garcilita; grandfather, Robert Wolfe; uncles, Dwayne Wolfe, Terry Wolfe, and JR Wolfe.
Adriana was preceded in death by her twin Sister, Araceli Garcilita; brother, Alex Rivera; and maternal grandmother, Nancy Garcia.
A visitation will be held on Thursday, Jan. 19 at The Church of God in Soco, beginning at 4 p.m. Adriana will remain at the church until the hour of service on Friday, Jan. 20, beginning at 2 p.m. with Aaron Bridges officiating. Burial will be in the Watty-Family Cemetery, Pallbearers will be among family and friends.
Long House Funeral Home assisted the family with final arrangements.