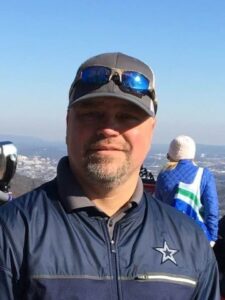 Troy James Crowe, 53, of Cherokee, N.C., went to his heavenly home at his residence on the morning of Saturday, Dec. 31, 2022.
He is preceded in death by his father Mark Crowe; grandparents, James Crowe, Elizabeth Huskey, Glen Davis, and Laura Hornbuckle; beloved aunt, Sis Crowe; and in-laws, Wayne and Evelyn Wachacha.
Troy is survived by his wife of 31 years, Melissa Wachacha Crowe; three daughters, Kayla Crowe-Williams (Brandon), Trae Crowe (Daniel), and Jacobi Berg (Harry); grandchildren, Talan, Colton, Troy, and Taysom; his mother, Glenda Crowe; brother, Chester Crowe (Brandy); special brother and sister Sam Crowe and Libby Ensley; and special cousin, Ida Lespier.
Troy had many nieces and nephews he loved and cherished.
He was once a Hot Shot with the U.S. Forest Service. He served a term on the Cherokee Central School Board from 2007-11. Troy retired from the Eastern Band of Cherokee Indians in 2019 after many years of service.
Troy was an avid Cherokee Braves fan. He especially enjoyed watching his children, and now grandchildren participate in sports.
Troy was a coach in softball and wrestling. Being highly skilled at both sports allowed him to help athletes achieve goals and wins. He left a lasting impression on many athletes.
Troy mentored local youth through Qualla Housing's former Drug Elimination Program.
In his younger years, he loved to play softball. In his later years, he took a strong interest in fishing and golfing.
He had a very giving heart when it came to charities and families in need. He encouraged his wife and children to have a giving heart as well.
Troy never met a stranger and had more friends than his family can name. You could always count on him to make you laugh. He is now reunited with one of his best friends, Noland Crowe.
Pallbearers: Carr Crowe, Dasan Gross, Rossi Wachacha, Bo Crowe, Dick Crowe, Peanut Crowe, Ike Teesateskie, Kevin Owle, and Pokey Hornbuckle.
Honorary Pallbearers: Sam Crowe, Leon Garner, Jim Owle, Albert Arch, B. Ensley, Denny Ensley, and Mike Saunooke.
Crisp Funeral Home of Bryson City is handling the funeral arrangements. Visitation will be held on Wednesday, Jan. 4 starting at 6 p.m. The funeral will be held on Thursday, Jan. 5 at 2 p.m. Both services will be held at Rock Springs Baptist Church with Greg Morgan officiating. Burial will take place in the Crowe Family Cemetery.