By SCOTT MCKIE B.P.
ONE FEATHER STAFF 
The Eastern Band of Cherokee Indians is now one step closer to being able to offer sports and off-track horse race wagering at its two casinos.  The Tribe and N.C. Gov. Roy Cooper came to an agreement on amendments to the tribal-state gaming compact recently, and the sportsbooks (sports wagering area) may soon open at both Harrah's Cherokee Casino Resort in Cherokee and Harrah's Cherokee Valley River Casino & Hotel in Murphy – both will be known as The Book.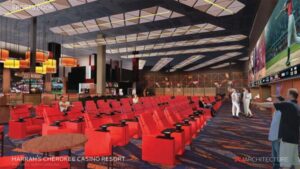 "We are excited to immediately begin implementing sports betting at our gaming properties," said Principal Chief Richard G. Sneed.  "COVID-19 has negatively impacted funding for critical community services within our Nation, so we welcome this new diverse revenue stream. The addition of these new services is a positive step towards a more stable and secure future for our Tribal members and government operations."
Brooks Robinson, Harrah's Cherokee Casinos regional senior vice president and general manager, commented, "Harrah's Cherokee Casinos are one step closer to sports betting with the recent agreement between the State of North Carolina and the Eastern Band of Cherokee Indians. The next and final steps in the process will be approval by EBCI Tribal Council and the U.S. Department of the Interior. Harrah's Cherokee Casinos are excited and ready to receive sports fans in Murphy and Cherokee, N.C. upon final approval."
At the end of its regular session on Thursday, Dec. 3, Tribal Council passed unanimously Res. No. 362 (2020), submitted as an emergency resolution by Chief Sneed, which approved the compact amendments.  
In a letter to Tribal Council Chairman Adam Wachacha regarding the emergency resolution, Chief Sneed wrote, "Sports wagering is a new and additional revenue source for the Tribe.  The pandemic has caused a contracting of the Tribe's budget and has put tribal program and entities at risk of financial jeopardy."  
During discussion on the resolution, Chief Sneed thanked Ann Davis, TCGE (Tribal Casino Gaming Enterprise) attorney and the TCGE Board saying, "They worked with the Governor's legal team – unfortunately, for a year.  COVID had some effect on the timing of things.  We're just grateful to finally have it done."  
Birdtown Rep. Albert Rose asked, "When will we be able to do the sports betting?  When will it activate at the casinos?"  
Davis said she is hoping it will occur by the end of January or "maybe in time for Super Bowl" but added, "I wouldn't hold your breath though."  
She added, "There are two issues with the Dept. of the Interior – COVID and the administration change." 
The compact now goes back to Gov. Cooper for his signature and then on to the U.S. Dept. of the Interior for a 45-day comment period and approval.  
Gov. Cooper signed North Carolina Senate Bill 154 into law on Friday, July 26, 2019.  The bill, introduced in February by State Sen. Jim Davis (R-50 District), passed in the State House 90-27 on July 15.  The bill previously passed the House Senate 43-7 on April 9.
The bill amends G.S. 14-292.2 to include sports and horse race wagering as Class III games that may be "lawfully conducted" on EBCI tribal lands.  According to the bill, sports wagering is "the placing of wagers on the outcome of professional and collegiate sports contests".  The bill describes horse race wagering as "fixed odds or pari-mutual wagering on thoroughbred, harness, or other racing of horses, including simulcasting and off-track betting".  Both sections include this wording, "the wager shall be deemed to occur where it is initiated and received, all of which must occur on Indian lands within the state lawfully permitted to conduct Class III gaming activities."