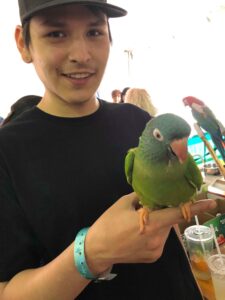 Ethan David Ross LaFontaine died unexpectedly in Mandaree, ND on Tuesday, Sept. 25, 2018 at the age of 21.
Ethan is survived by his parents; Shanna Keeswood of Mandaree, ND and Loren LaFontaine of Rolla, ND; his siblings, Sheldon Keeswood Sr. ( Mesha Camp), Kevin Keeswood, Shalynne "Shay" Nipwater (Ryan Schoenfeld),  LaShanda LaFontaine (Travin Fox), Brooklynn Hairychin and Kaylie Hairychin.
Ethan was born on April 4, 1997 during a blizzard and flood in Fargo, ND to Shanna Keeswood. He attended middle and high School in New Town, ND.
Ethan was enrolled in the Eastern Band of Cherokee Indians.
A wake is scheduled for Friday, Sept. 27 at 6pm at Thomas Jonny Bird Veterans Memorial Hall, New Town ND. The funeral is to take place at St. Anthony's Church, Belcourt ND Saturday, Sept. 28 at 1pm.
All are welcome to attend and celebrate Ethan's life.
The family wishes to extend their sincere thanks and deep gratitude for all expressions of sympathy and acts of kindness shown during their time of bereavement.