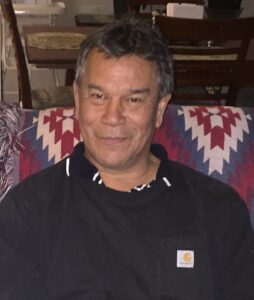 Mickey Edward Rattler, 61, of the Birdtown Community, went home to be with the Lord on Tuesday, Sept. 18, 2018. A native of Cherokee, he was the son of Elsie Wolfe Rattler of Cherokee and the late Leroy Rattler of Snowbird.
In addition to his father, he was also preceded in death by one son, Mickey Mario Rattler; two sisters, Linda and Polly Rattler; two nieces, Jada Rattler and Justina Rattler; grandmother, Lula Owle; grandfather, Jacob Wolfe; paternal grandparents, Morgan and Bertha Rattler; and several nieces and nephews.
In addition to his mother, he is also survived by three sons, Brandon Burgess (Keredith) of Cherokee, Mitch Rattler and wife Erica of Blowing Rock, and Tristin Rattler and wife Amanda of Blowing Rock; one daughter, Kelsie Crowe of Cherokee; 15 grandchildren; three great grandchildren; five brothers, Jackie, Jody, Timmy, Harold, and Sammy and wife Kari Rattler all of Cherokee; aunts, Laura Blankenship and husband Bob, and Lucille Wolfe; uncle, Bill Wolfe all of Cherokee; several nieces, nephews, and several cousins in Robbinsville.
Funeral Services will be held 7pm on Thursday, Sept. 20 at Crisp Funeral Home Chapel. Rev. Jim Parks will officiate.
The family will receive friends from 6 – 7pm Thursday at the Funeral Home.
A graveside committal service will be held 10am on Friday, Sept. 21 at Rattler Mountain Cemetery.
Pallbearers will be family and friends.