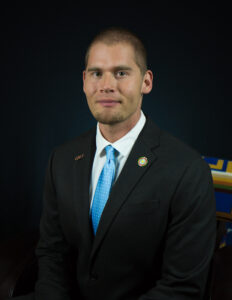 CULLOWHEE – Wolftown Rep. Jeremy Wilson, a Western Carolina University graduate, has been appointed to the WCU Cherokee Center Advisory Board.
The appointment was made by Principal Chief Richard G. Sneed. The Cherokee Center, located at 1594 Acquoni Road, Cherokee, was established in 1975 as an office for outreach and partnership development. The center provides a broad range of assistance for Eastern Band students interested in attending WCU, which includes application processes, campus tours, educational workshops, alumni engagement and cultural awareness both on campus and off. The center is the headquarters for all communication between WCU and the Eastern Band.
Wilson joins interim Chancellor Alison Morrison-Shetler, acting Provost Carol Burton, Chief Sneed, Ricardo Nazario-Colon, James Bradley, Charlie Myers, Susan Fouts, Jane Adams-Dunford, Phil Cauley, Richard Starnes, Mary Wachacha, Patrick Frazier, Joyce Dugan, Tara Reed Cooper, Yona Wade, Elias Huskey, and Anita Lossiah in serving on the advisory board.
"My goal is to assist the center in helping our students, regardless of age, get what they need to further their education and preparation for life, whether here or elsewhere," said Rep. Wilson. "I want everyone to be knowledgeable of the resources that are available through the center. The relationship between the tribe and the university has always seemed up in the air to some folks in the community. My job as a tribal council member will be to help with that paradigm shift, and show our people that WCU is a good place to go for your education."
Rep. Wilson, 29, is a resident of the Big Y community in the Wolftown township. He received his high school diploma from Cherokee High School, an associate degree from Southwestern Community College and his Bachelor's Degree in Sociology from WCU. His parents are Juanita Plummer Wilson and Robert "Jeff" Wilson.
Rep. Wilson has worked for the Eastern Band of Cherokee Indians as a fitness trainer and an executive administrator for the tribal Public Health and Human Services Division. He also owns his own photography business, Jeremy Wilson Photography. His community involvement includes the Right Path Leadership Program, University of North Carolina Native American Leadership Institute, and the WCU Coulter Adult Leadership Program.
Info: WCU's Cherokee Center director Sky Sampson 497-7920 or snsampson@wcu.edu
– WCU