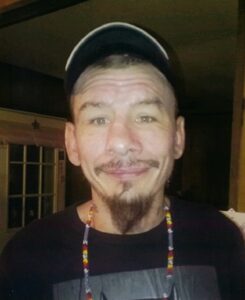 Jess Alvin "Keener" McCoy, 39, of Birdtown, went home to be with the Lord unexpectedly on Friday, Aug. 17, 2018.
A native of Cherokee where he attended Cherokee High School, Keener was an avid outdoorsman who loved to roam the woods for wild mushrooms, family was everything to him as so was the Green Bay Packers.
He was preceded in death by brother, William "Wee" Hartline; grandma, Mary Murphy; grandpa, Fred Locust; and great grandma, Margret Ratcliff.
Keener is survived by his loving mother, Doris "Doe" Sharp; fathers, Norman McCoy and Clarence Murphy; son, William "Jesse Boy" Walkingstick; sisters, Angie McCoy, Brandy Garcia (Miguel), Jamaca Murphy (Estefan), Kelly, Chelsea, and Briana Murphy; grandmother, Lillian Franklin; aunts, Deb Lee "Louie", Arlene Thomas (Glen), Vera Partridge "Mousey"; special uncle, Will Locust (Nancy); nieces, Cassie, Selena, Alicia, and Analia; nephews, Taylor, Cainyan, Gaston, Giovani, and Brody; several great nieces and nephews; and many cousins and dear friends.
Funeral services will be held at 11am on Wednesday, Aug. 22, at Goose Creek Baptist Church with Rev. Bo Parris officiating.  Burial will be in the Locust Cemetery.
The body will be placed in the church at 5pm Tuesday, Aug. 21 to receive family and friends to await the service hour.
Pallbearers will be Will, Miguel, Estefan, Justin, Taylor, Steve, Dylan, and Bud.
Long House Funeral Home is assisting the McCoy family.