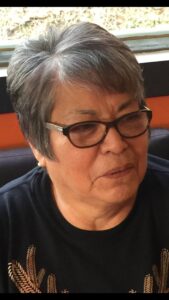 Helen Mae Dorothy McCoy Smith, 72, known as "Dorothy", went home to be with the Lord on Aug. 14, 2018, with her loving family by her side at her sister Rosie's home in the Birdtown Community.
She retired from the Cherokee School system.
Dorothy was preceded in death by her husband, Robert "Bob" Smith; her parents, Russell and Emmaline McCoy; one sister, Darlene McCoy; two brothers, Dean and Doug McCoy; and a niece, Deanah McCoy.
Dorothy is survived by one daughter, Bobbi Lynn Smith of Cherokee; one son, Travis Kent Smith; three grandsons, Zachary Alexander Smith, Kenton Rayce Smith, and Koen Dash Smith; one great grandson, Brantley Grey Smith; five brothers, Robert McCoy (Helen), Dan McCoy (Rosie), Johnny McCoy (Teresa), Eric McCoy (Wanda), and Joey McCoy; sisters, Rose McCoy, Juanita McCoy Matthews (Brian), and Kathie McCoy (Rich).
In addition, she had a very close and dear friend since the 7th grade, Duke Raby.
The family will be holding a visitation and funeral service at the Long House Funeral Home in Cherokee from 11am – 1pm on Thursday, Aug. 16 with funeral services immediately following at 1pm with Pastor Bo Parris officiating.  Burial will be at the Bird Hill Road Cemetery located on Adams Creek.  Pallbearers will be family and friends.