By SCOTT MCKIE B.P.
ONE FEATHER STAFF
A study designed to find out the social imprint of modern-day Native Americans and ways to improve upon that exposure has revealed some startling 'truths'.  Authors of the "Reclaiming Native Truth Study" state in their 76-page findings report, "For the first time ever, we know what different groups of Americans – across socioeconomic, racial, geographic, gender, and generational cohorts – think (and don't know) about Native Americans and Native issues.  We have learned how biases keep contemporary Native Americans invisible and/or affixed to the past and are holding back Native Americans from achieving political, economic, and social equality, as well as accurate and respectful representation."
For the study, a total of 28 focus groups, totaling 200 people, were held across the country in locations from Los Angeles, Calif. to Tahlequah, Okla.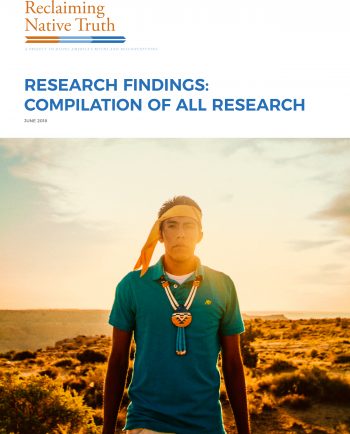 Topics covered ranged from understanding of tribal sovereignty to Native American sports mascots.  According to the study, tribal sovereignty is one of those issues that is not well understood at all by the general public.  "Even after gaining a better understanding of the term, few people actually believe tribes are sovereign – or should be sovereign – and cannot conceptualize more than 600 sovereign nations across the United States.  While people support sovereignty around land use, they find it difficult to accept that tribes have a different set of laws on reservations.  People who oppose the sovereignty of Native American tribes often think that the rights of Native Americans harm the rights of non-Native people."
Education, or the lack thereof, on Native issues and Native Americans in general is a factor that was researched in the study.  "A study of schools in 2011-2012 found that nearly 87 percent of state history standards failed to cover Native American history in a post-1900 context and that 27 states did not specifically name any individual Native Americans in their standards at all," the study states.  "People interviewed said that they feel that what they learned – or are teaching – in school about Native culture is inaccurate, and they strongly supported the need for curriculum change."
The #NoDAPL Movement surrounding the protests and encampment at the Standing Rock Sioux reservation in North Dakota raised awareness of Native Americans in the public eye according to the study which states, "The movement at Standing Rock has significantly undermined the systemic erasure of Native peoples from the dominant American narrative.  At a time when most Americans continued to believe that Native Americans and tribal nations no longer exist in the United States, Americans were presented with a movement that forced a new conversation around values, identify, and our collective connection to the Earth around us and the lands we live on."
In the summary, the study states, "A 78 percent majority started the survey saying they are interested in learning more about Native American cultures.  Sixty-three (63) percent agree that Native American tribes should have full legal authority on their own lands.  Sixty-seven (67) percent support the Indian Child Welfare Act.  Seventy-eight (78) percent believe it is important to feature more stories about Native Americans on TV, in movies and in other entertainment."
Other key findings included:
71 percent support expanding national monuments to protect sacred land(s)
67 percent support "ensuring that Native peoples have the final say on matters that affect their resources"
74 percent support increased funding for health care and poverty reduction among Native Americans
67 percent supports the United States upholding treaty obligations
72 percent support "significant changes" to school curriculums on Native Americans
The "Reclaiming Native Truth" study was directed in a joint effort by the First Nations Development Institute and Echo Hawk Consulting.  The project team included: Echo Hawk Consulting – Lauren Cordova (Taos Pueblo/Shoshone-Bannock), project assistant; Crystal Echo Hawk (Pawnee), president and chief executive officer, co-project leader; Jodi Gillette (Hunkpapa Lakota/Oglala Lakota), advisor; Janie Simms Hipp (Chickasaw), advisor, Native Solutions; Shirley LaCourse Jamarillo (Oglala Lakota/Yakama/Umatilla/Oneida), project manager; Mary Kathryn Nagle (Cherokee), advisor, Pipestem Law; Wilson Pipestem (Otoe-Missouria), attorney and government relations, Pipestem Law; Ryan Red Corn (Osage), advisor, Red Hand Media; Betsy Theobald Richards (Cherokee), advisor, The Opportunity Agenda; First Nations Development Institute – Randy Blauvelt, senior communications officer; Alice Botkin, development officer; Mary K. Bowannie (Zuni/Cochiti), communications officer; Stephanie Cote (Anishinaabe), program assistant; Dr. Sarah Dewees, project director and senior director of research, policy, and asset-building programs; Dr. Raymond Foxworth (Navajo), vice president of grantmaking, development, and communications; Jackie Francke (Navajo), vice president of programs and administration; Benjamin Marks, senior research officer; Marian Quinlan, writer; Tom Reed, finance officer; Yadira Rivera, grants and program assistant; Michael E. Roberts (Tlingit), president and chief executive officer; and Patrita "Ime" Salazar (Taos Pueblo/Santa Ana Pueblo), program officer.
Info: www.reclaimingnativetruth.com