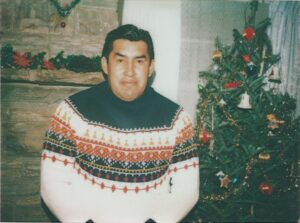 Joshua Squirrel Sr., 83, of Cherokee, went home to be with the Lord Friday, Aug. 3, 2018. A native of Cherokee, he was the son of the late Shepard and Mianna Screamer Squirrel. He was a member of Piney Grove Baptist Church. He loved the Atlanta and the Cherokee Braves. He was a rock mason.
He was preceded in death by his sisters, Mary and Irene Squirrel and his grandson, Stephan Ruth.
Joshua is survived by his daughter, Tisa Squirrel; son, Joshua Squirrel Jr.; grandchildren, Tara Ruth and husband William, Killian Ruth, Jessica Queen, Joshua Brent Squirrel, Randy Braun, and Mykel Lossiah; many great grandchildren; brothers, John, George, and Robert Squirrel; nieces and nephews, Fred and Bucky Squirrel, D.D. Martin, Lamont Squirrel, Arlene and Dawn Squirrel, Tony Martin, David and Rena Squirrel, Angela Charlene, and Herb Squirrel.
Funeral services will be held at 2pm Monday, Aug. 6 at Bethabara Baptist Church. Rev. Noah Crowe will officiate with burial in the Squirrel Cemetery.
Pallbearers will be family and ball players.