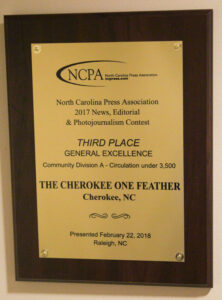 The Cherokee One Feather garnered a total of 12 awards in the 2017 North Carolina Press Association (NCPA) News, Editorial and Photojournalism and Best Advertising Contests including a third place plaque for General Excellence (Division A) which recognizes accomplishment in writing, photography, layout, and overall impact.  The awards were given during the annual NCPA Winter Institute held Thursday, Feb. 22 at the Raleigh Crabtree Marriot.
The awards were given for work between Oct. 1, 2016 and Sept. 30, 2017.  Robert Jumper, editor, and Scott McKie Brings Plenty, reporter, won second place as a team in the Best Community Coverage category.
Robert also won in the following category:
3rd place, Editorials, "Alternative truth and wrestling", "Why are we so gullible?", and "Let's try to get this right" about the Cherokee Code
Scott won in the following categories:
1st place, Headline Writing
1st place, Best Use of Color Ad, "Christmas Caroling Contest"
2nd place, Arts and Entertainment Reporting, "Capturing life's essence", a feature on Madison Hye Long's photographs highlighting the NoDAPL movement
2nd place, Sports Coverage (overall coverage for the year)
2nd place, General Excellence for Website, theonefeather.com
3rd place, Feature Writing, "Unyielding voice", a feature on the status of the Cherokee language among the Eastern Band of Cherokee Indians
3rd place, Sports Feature Photo, photo essay from Cherokee Skate Jam
3rd place, Best Newspaper Promotion Ad, "We're slashing prices"
3rd place, Appearance and Design for layout of Cherokee One Feather
The One Feather joined the N.C. Press Association in 2009 and has garnered awards in each year since it became eligible for awards in 2010.  This was Robert's fifth award and Scott's 47th.
– One Feather staff report