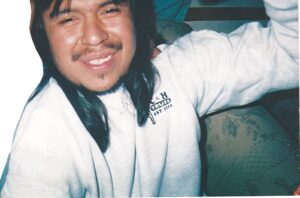 Jamison Bear French, 44, of the Big Cove Community on Straight Fork, passed away Wednesday, Feb. 21, 2018. A native of Cherokee, he was the son of Marilyn Swimmer of Cherokee and the late Elliott Dump French. In addition to his father, he was also preceded in death by three uncles, Herbert Dave Swimmer, McKinley Mac Swimmer, and Marvin Skilly French.
In addition to his mother, he is also survived by two brothers, Elliott (Seymour) French and wife Stephanie of Cherokee, and George French of Cherokee; one cousin/brother, Randall French of Cherokee; one sister, Melvena Swimmer of Cherokee; grandmother, Amanda Swimmer of Cherokee; favorite aunt, Juanita Swimmer of Cherokee; favorite niece, "Baby Girl" Jill Swimmer of Cherokee; 11 nieces and nephews; two uncles; and several aunts and uncles on both sides of the family.
Funeral Services will be held 2pm Monday at Acquoni Baptist Chapel. Rev. James (Bo) Parris will officiate with burial at Sequoyah Family Cemetery.
Bear will be taken back to Acquoni Baptist Chapel at 4pm Sunday to await the hour of service.
Honorary Pallbearers will be Big Cove Free Labor.