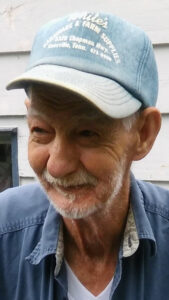 Kenneth Earl Locust, 80, of Whittier, passed away on Monday, Feb. 5, 2018 at his residence.
He is survived by his children, Michelle L. Baker, Charlene D. Jennings, Kenneth E. Locust II, and Alicia Caron; 13 grandchildren; 22 great grandchildren; one brother, Johnson Locust; and one sister, Louise Locust.
Kenneth was preceded in death by his wife, Jean Law Locust; parents, McKinley Locust and Mable Buff Locust; and three brothers, Rufus, McKinley, and Stanley Locust.
Visitation will be held on Sunday, Feb. 18 from 12-2pm at Long House Funeral Home with funeral services to follow at 2pm.  Pastor Mary Brown, of the United Methodist Church in Andrews, will officiate.  Burial will follow at the Locust Cemetery.  Pallbearers will be Kenneth E. Locust II, Michael Locust, Keevon Allen, Jordan Elkins, Jermiah Raymond, Damien Raymond, and Monte Jennings.