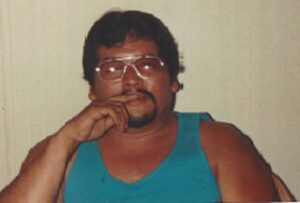 Wesley Queen, 57, of Cherokee, passed away Saturday, Jan. 20, 2018 at Mission Hospital in Asheville.
Wesley was born May 8, 1960 in Swain County.  He was a carpenter.
He is survived by his companion, Peggy Teesateskie; one sister, Cindy Queen; three brothers, Abraham Queen (wife Lou), Lawrence Queen (wife Sharon), and Kevin Smith; and several nieces and nephews also survive.
Wesley was preceded in death by his mother, Minnie Queen Smith; his father, Edgar A. Smith, and one brother Alan Boyd Queen.
Visitation will be held on Tuesday, Jan. 23 from 5pm until 12 midnight at the Cherokee Methodist Church.  Funeral services will be held on Wednesday, Jan. 24 at 2 pm at the Cherokee Methodist Church.  Pastor James "Bo" Parris will officiate.  Burial will follow at the Minnie Queen Cemetery.  Pallbearers will be among nephews and friends.
Long House Funeral Home is assisting the Queen family.