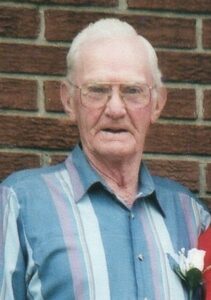 Wayne A. "Bear" Carver, 94, of Robbinsville, went home to be with the Lord on Tuesday, Jan. 16, 2018 at Harris Regional Hospital in Sylva.
He was the son of the late Ed and Ada Whittaker Carver.  In addition to his parents, he was preceded in death by his daughter, Ann Carver Adams; and his brothers, J.D. Carver, James Carver, and Howard Carver.
Wayne was a veteran of World War II having served his country proudly in the US Army.  He was one of the oldest members of the Eastern Band of Cherokee Indians in the Snowbird Community.
He was a man of quiet strength.  He faithfully attended New Hope Baptist Church for many years.  His devotion to his faith influenced many throughout the years.  He always had a smile and a kind word.  He was happy to provide the latest schedule of the Atlanta Braves to all his friends every spring.
Bear is survived by his loving wife of 67 years, Marie Davis Carver; his granddaughters and their husbands, Tonja and David Styles and Lavonia and Dustin Day; his great grandchildren, Austin White and wife Katy, Grace Styles, Destinee Schell, and Riley Crisp; his son-in-law, Hollis Adams; and his sister, Burnette Bridges, all of Robbinsville.  He has six great great grandchildren.
Funeral services were held Saturday, Jan. 20 at New Hope Baptist Church.  Reverends Kevin Brooks, Patrick O'Dell, and James York officiated.  Burial followed at New Hope Baptist Church Cemetery where military rites were conducted by the Steve Youngdeer American Legion Post 143.
Townson-Smith Funeral Home served the Carver family.  An online register is available at www.townson-smithfuneralhome.com.