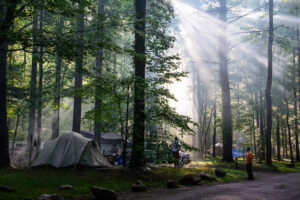 Great Smoky Mountains National Park officials announced a fee increase for frontcountry campgrounds and picnic pavilions effective March 1. Over the past year, officials reviewed public comments, operating costs, and projected budget levels to determine the rate increases which range from 10 percent to 25 percent.
The rate increases are necessary to meet the rising costs of operations, reduce a backlog of maintenance requirements on park facilities, and initiate needed improvements. Park officials are also improving the efficiency of campground management by adding three campgrounds to the national reservation system through Recreation.gov.
"Park visitors have long enjoyed camping and picnicking across the park in spectacular settings that offer space for relaxation and renewal," said Superintendent Cassius Cash. "Maintaining and servicing these facilities in the mountains presents a unique set of challenges and, with increasing costs, these fee increases are necessary to ensure the continual care and operation of these special places."
The park operates nine open campgrounds, seven group campgrounds, six picnic pavilions, and five horse campgrounds. The current fees have not been increased since 2006 or earlier at any facility aside from Cataloochee Campground which had an increase in camping fees in 2011 when it was added to the reservation system.
In addition to fee increases, the park is also adding Abrams Creek, Balsam Mountain and Big Creek campgrounds to the National Recreation Reservation System to improve operational efficiency. Beginning in early March, all sites will require advanced reservation and payment prior to arrival in the park through Recreation.gov either online or by phone. By placing these three geographically remote campgrounds on the reservation system, the park can reduce campground operation costs by eliminating the need for staff time for the collection of fees. The reservation system also provides a more efficient process for visitors to secure an overnight stay without traveling to the remote locations to check for vacancies.
By law, the park retains 100 percent of the camping and pavilion fees. The fees are used primarily to operate these facilities. This includes maintaining buildings, grounds, and utilities, providing visitor services, and funding rehabilitation projects, such as road resurfacing and replacing picnic tables and grills. Some revenues are also used to maintain park infrastructure and other special projects beyond these sites. Over the years, the park has had to compensate for rising costs from inflation by reducing visitor services, delaying maintenance repairs and improvements, and, at many sites, shortening the length of the season when facilities are open, having a particularly adverse impact on visitors during the shoulder seasons.
The park completed a 2016 comparability study with campgrounds in the surrounding communities and the study revealed that, while park camping fees in the park have remained mostly constant since 2006, campgrounds in the surrounding communities have continued to rise. Even with the fee increase, park campgrounds will remain among the least expensive in the area.
Info: https://www.nps.gov/grsm/planyourvisit/carcamping.htm
– NPS