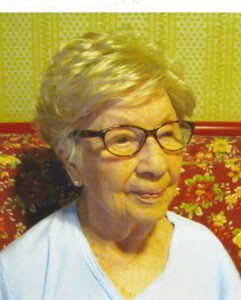 HICKORY – Catherine Hunt Powell Lockman, 100, of Hickory, passed away on Jan. 10, 2018 at Catawba Regional Hospice.
Born on April 13, 1917 in Catawba County, she was the daughter of the late Peter and Amanda Roper Hunt. Kat was a member of West Hickory Baptist Church, and she taught Sunday school in the 3-year-old class for over 20 years. She was a loving wife, mother, grandmother, great grandmother, and great great grandmother. Kat loved the color red and she loved to dance. She celebrated her 100th birthday last year with her family and received the keys to the city of Longview and Hickory.
In addition to her parents, she was preceded in death by her first husband and father of her children, William Tate Powell; infant son, William Darryl Powell;  second husband, Mack Blair Lockman; three brothers; and one sister.
Survivors include her children, Larry Joe Powell and wife Martha of Conover, Doris LaRue Huffman and Jerry Sampson of Cherokee, Sheila "Chi Chi" Lail of Hickory; grandchildren, Tim Powell (Debbie), Tammy Adams (Dennis), Rev. Michael Huffman (Genia), Darren Huffman (Debbie), Jason Lail, Cory Lail (Katy); great grandchildren, William Powell, Brandon Powell (Jennifer Hollar), Luke Adams, Joshua Huffman (Denise), Faith Gaffney (Carl), Catherine Huffman, Jesse Huffman, Jami Huffman, Zachary Huffman, Atticus Lail, Penelope Lail; great great grandchildren, Jack Huffman, Anya Powell; and numerous nieces and nephews across the United States.
A Celebration of Life Service will be held on Sunday, Jan. 14 at 2pm at Catawba Funerals & Cremations with Pastor Scott Frady officiating. Burial will follow at Fairview Cemetery.
The family will receive friends prior to the service from 1-2 PM at the funeral home.
Condolences may be left at www.catawbamemorialpark.com.
Kat's Family is under the care of Catawba Memorial Park, Funerals & Cremations.