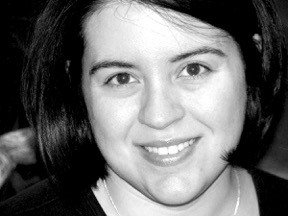 Heaven gained an angel on Wednesday, Nov. 15, 2017, after Davina Jean "D.J." Swayney Ricco, 38, of Surprise, Ariz. lost a courageous battle with cancer.
Davina "D.J." was a native of the Big Cove Community in Cherokee. She was the daughter of the late David Swayney Jr. of Cherokee and Shirlene and David Loyer of Sylva.
Left to cherish her memories are her loving family including husband, Sal Ricco;her two sons, Gray and Gunner; one brother, Chris Swayney and wife Rose of Sylva; in-laws, Sal Ricco of Surprise, Ariz., and Linda Seckeler of Brentwood, NY; as well as many loving aunts, uncles, cousins and friends.
There was not one soul that was left untouched by D.J., as she was loved by many.
In addition to her father, D.J. was preceded in death by all her grandparents, including Katie Calhoun Swayney of Cherokee, who was a hero to D.J.; her loving aunts, Kathy Swayney Wolfe and Brenda Swayney Sluder, both of Cherokee.
Palm Valley Funeral Home of Sun City, Ariz., is assisting the family. There will be a celebration of D.J.'s life at a later date in her home of Cherokee.
In lieu of flowers, donations to help the Ricco family may be made at GoFundMe #SupportTheRiccoBoys.