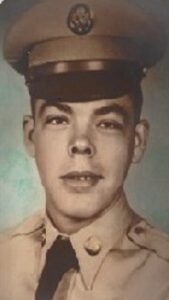 Samuel Brady Jr., 82, of Whittier, passed away Tuesday, Jan. 2, 2018 at his residence following a brief illness.
Samuel was a U.S. Army veteran and a member of the Bethabara Baptist Church.  He retired from the DOT.
He is survived by his wife, Laury Kay Brady; his children, Sam Brady (wife Sheryl), Misty Brady Buchanan (husband Omer Buchanan Jr.), Wendy Brady, Nathan Brady (wife Jessica), and Jonathan Brady; 13 Grandchildren, Jason Brady, Christy Jones, Glenn Jones, Samantha (Tuffy) Buchanan, Cody Buchanan, Mandy (Boogie) Buchanan, Omer Buchanan III (Boy), Santanna (Peek) Buchanan, Megan (Sassy) Wolfe, Eric Wolfe, Jaylynn (Bug) Brady, Bradix (B-rad) Brady, Domnix (Domie) Brady, Tanner (Tannie) Brady; four great grandchildren, Lucy Brady, Jacoby Jones, Julian Jones, and Journey Buchanan; one brother, Daniel Brady; one sister, Dorothy Owle; and many very special friends also survive.
Samuel was preceded in death by his parents, Samuel Brady Sr. and Mattie Patterson Brady; one son, Larry Brady; and two sisters, Jesse Welch and Julie Welch.
Visitation will be held on Tuesday, Jan. 9 at the Goose Creek Baptist Church beginning at 5pm where the body will remain until the hour of service on Wednesday, Jan. 10 at 2 pm.  Rev. James Gunter will officiate.  Military honors will be provided by the Steve Youngdeer American Legion Post 143.  Pallbearers will be among family and friends.
Long House Funeral Home is assisting the Brady family.