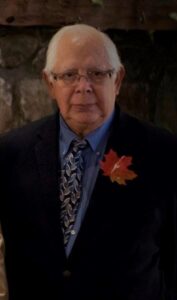 Jack Saunooke, 80, of Whittier, went home to be with the Lord, Thursday evening Jan. 4, 2018. A native of Cherokee, he was the son of the late Cowney Saunooke and Geneva Toineeta Welch. Jack was a member of St. Francis of Assisi Episcopal Church in Cherokee and was a U.S.Army veteran as well as a member of Steve Youngdeer American Legion Post 143 in Cherokee.
An avid Green Bay Packer fan, what Jack enjoyed most was babysitting for his grandchildren.
In addition to his parents, he was also preceded in death by a son, George Anthony Saunooke; a granddaughter, Anna Saunooke; his second wife, Theresa Curran; and by his two brothers, Jim Bushyhead of Oklahoma and Mody Saunooke.
He is survived by his wife of 27 years, Mary Ellen Saunooke; two sons, Robert Mark Saunooke of Dillsboro and his mother Maggie (Harmer) Weichel, Timothy Warren Saunooke and his wife Anna Wolverton of Raleigh; two daughters, Toineeta Marie Saunooke Kirkland of Whittier, Samantha Amanda Saunooke of Whittier; seven grandchildren, Anthony Welch Saunooke, Dylan Michael Saunooke, Ellyssa Rose and Riley Theresa Saunooke, Trey Caulkins, Blaykeleigh Victoria Roland, and Davis Cooper Kirkland; and one great grandchild, Kamryn Xain Saunooke.
Funeral Services will be held at 2pm Tuesday, Jan. 9 in the Chapel of Appalachian Funeral Services with the Rev. Everett Fredholm officiating. The family will receive friends Monday evening from 6-8pm at the Funeral Home. Burial will be in Campground Cemetery.