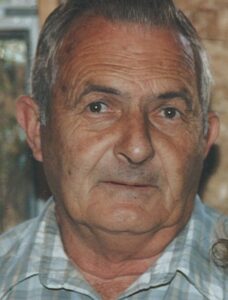 Edgar G. (Buddy) Waldroup passed away, Friday, Sept. 22, 2017 at Tsali Care Nursing Facility after a period of declining health.
A native of Swain County, he was the son of the late Jody Cochran Waldroup and Wiley Waldroup. He was married to the late Esther Owle Waldroup for 57 years. He was an employee for the Eastern Band of Cherokee Indians for 25 plus years; and worked for the Cherokee Boys Club until his retirement. He was a charter member of the Cherokee Rescue Squad, and was proud to serve and work for the Tribe for his entire life from the time he moved to the Qualla Boundary. He was a charter member of Bethabara Baptist Church and sang in the Bethabara Quartet for many years.
Surviving are his children, Barbara Waldroup Miller, of Cherokee, Aneva Turtle Hagberg, of Cherokee, Debra Waldroup Chiltoskie (Wyatt) of Cherokee, William E. (Bill) Waldroup (Jamie) of Cherokee, Brian George Waldroup (Vicki) of Cherokee, Jennifer Waldroup Garafola (Joe) of Nashville, Tenn., and Alysia (Red) Soldier (James) of Dillsboro.
He is also survived by two brothers, Lenard Waldroup (Emma) and Bill Waldroup (Beatrice) as well as one sister, Linda J. Herron. Also, surviving are 17 grandchildren, 25 great children, and one great great grandchild, as well numerous nieces, nephews, and a host of other family members and many friends.
Services will be held on Monday, Sept. 25 at 2pm at the Bethabara Baptist Church. Officiating services will be Reverends James (Bo) Parris, Richard (Duke) Pickup, Jeff Waldroup and Merritt Youngdeer.
Burial will be at the Birdtown Cemetery.
Pallbearers will be grandsons, Chad (Smokey) George, Joshua (Snapper) Turtle, Christopher Dewitt Waldroup, Robert (Bobby) Waldroup, Ryan Curtis Waldroup, and Gavin Major Lambert.
Crisp Funeral Home oversees arrangements.