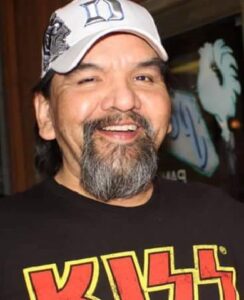 Dink Sherrill, 50, of Cherokee passed away unexpectedly Friday, Sept. 22, 2017 at his home.
He was born Nov. 4, 1966 in Swain County to the late Robert William Sherrill and Marion Frances Crowe Sherrill.
Dink was a chef and sports guru.  Duke lost their biggest fan. Woooooo.  He belonged to the Kiss Army.  Dink was a member of the Mount Vernon Freewill Baptist Church.
Dink is survived by his companion of 18 years, Sherry Matthews; his children, Scrappy Sherrill, Allison Sherrill, Erin Sherrill, and Stevie Ray Sherrill; 15 Grandchildren; one brother, Spook Sherrill; two "Stinky Butts", Devan and Amber Sherrill; aunts, Cindy and Jr. Crowe, Esther Barnes, and Eddy and Kermit Jones; and one uncle, Matt Barnes.
In addition to his parents, Dink was preceded in death by "Old Mom" Louisa Barnes.
Visitation will be held on Monday, Sept. 25 from 6-8pm at Long House Funeral Home.  Funeral services will be held on Tuesday, Sept. 26 at 2 pm at Long House Funeral Home.  Rev. Jim Frady will officiate.  Burial will follow at the Swimmer Family Cemetery on Swimmer Branch.  Pallbearers will be Chip Ledford, Scrappy Sherrill, Brute Crowe, Spook Sherrill, Stevie Ray Sherrill, and Cameron Wiggins.