Abe Queen – Painttown Community
Abe has lived in Cherokee all his life.  Prior to retiring from the Tribe after over 30 years of service, he worked at the Job Corps, Boundary Tree Restaurant, Cherokee Cablevision, and Cherokee Bottled Water.  He previously played Indian Ball for Wolftown, where his son and grandson now play.  Abe was also a BIA firefighter and boxer.  He continues to lift weights, do yard work, plant and harvest a garden each year, and volunteer with his family at the Painttown Community Club.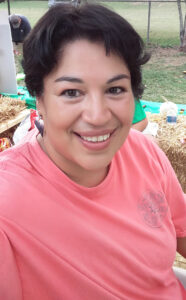 Trudy Crowe – Big Y Community
Trudy is a highly educated tribal member holding two bachelor's degrees (nursing and psychology) and a master's of science degree in health care management.  She worked at the Cherokee Indian Hospital for 12 years as a registered nurse, and she is now the wellness manager at the Oconaluftee Job Corps.  She is an active volunteer in her community and frequently organizes events and programs such as a Cornhole league, a women's volleyball league, dinners, etc.  She is also the grant writer for the Big Y Community.
Annie Marie Saunooke Owens – Yellowhill Community
Born in Cherokee, she graduated from Chilocco Indian School and Haskell Indian Nations University where she received a degree as a dental assistant.  She worked for Indian Health Service for 37 years where she served as the Employees Association president, created the Baby Bottle Tooth Decay program, and helped with the UNC Pedo Program.  Annie has been active in her community for years.  She has served as co-chair for the Yellowhill Community Club, currently participates in the Senior Games, serves on the Election and Planning Boards, and has served on the Fall Festival and Cherokee Fair Committees in several different capacities.   One of her most exciting achievements was helping in getting the Bowling Alley here in Cherokee.
Charlie Arch – Big Cove Community
Charlie Arch is married to Lou Bowman, and they raise two boys, Alijah, 8, and Ajaidyn, 11.  He has lived in Big Cove for over 10 years and enjoys fishing, hunting, and digging ginseng.  Charlie is an active member of the Big Cove Free Labor Group, and he helps anyone in the community with whatever he can; not only in Big Cove, but other communities as well.  Charlie is a kind-hearted gentlemen that doesn't mind helping others and asks for nothing in return.
Stacy Bessie Wallace – Birdtown Community
Stacy Bessie Wallace was born in May 1947 at the old Cherokee Hospital.  She was raised in the Birdtown Community and has lived there all of her life.  She is the daughter of the late Ollie W. Owle and stepfather Sam Dee Owle.  She has two children, Joshua and Tisa Squirrell, seven grandchildren, and eight great grandchildren.  She considers two of her greatest gifts to be having been raised knowing about God and the teaching of Cherokee traditions and culture.  Her hobbies include crafting with beads, sewing, baking, and cooking.  Bessie is the president of the Cherokee Chapter of the North American Indian Women's Association and has served as vice president of the national organization.  She retired from Head Start with 30 years of service having worked in the Big Cove, Soco, Birdtown, and Cherokee Centers.  Each parent and child was unique in their own community which taught her a better understanding of Cherokee people and heritage.
Roger Smoker – Snowbird Community
Roger Smoker (La tsi si – go s ga), chairman of the Snowbird Community Club, is the son of the late Jack Smoker and Amy Teesateskie Smoker.  A fluent Cherokee speaker, Roger has been married to Dawn Smoker for 23 years, and they have three sons, Tevi Uwohali Smoker, Dustin Tsuli Smoker, and Westin Yona Smoker, and one granddaughter, Raylee Muli Smoker.  Roger graduated from Haskell Indian Nations University with a degree in natural resources, and he served with the U.S. Forest Service for 29 years.  He is presently employed with the New Kituwah Academy as a contractor in consultation and translation for the Cherokee language.  He serves on the Cherokee Election Board and is always willing to participate in community events.  Roger works on anything from fundraisers for the community to gravesite clean-ups or trash pick-ups.  He is always open to other people's ideas, and he is a great role model for our youth.
– Bios submitted by Cherokee Welcome Center