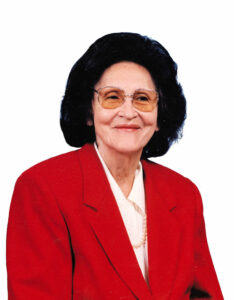 Icey Elizabeth Derreberry, 85, died Thursday, Sept. 21, 2017.  Born in Graham County on June 23, 1932, she was the daughter of the late Robert Game Walker and Bessie Chickalilee Walker.  Icey attended Summit Church and was a proud member of the Eastern Band of Cherokee Indians.
Mrs. Derreberry is survived by her sons, Mendell Derreberry and wife, Camille, and Randy Derreberry, all of Morganton; a daughter, Brenda Komodowski of Asheville; grandchildren, Minda Daniels, Keely Pritchard, Randy Berreberry Jr., Renee Komodowski, and Stefan Komodowski; great grandchildren, Daylin Pritchard, Zaydin Pritchard, Kaydin Pritchard, Skylin Pritchard, and Zakry Daniels; a brother, Elmer Walker of Riverdale, Ga.; and sisters, Loretta Lowe of Sallisaw, Okla., Lavinia Saylor of Illinois, Joyce Penland of Douglasville, Ga., Ellen McConnell of Houston, Texas, and Helen Jones of Winston-Salem.
In addition to her parents, Icey was preceded in death by her husband, Vincent Derreberry; a great-grandchild, Rocklin Pritchard; and brothers, Ronald, Arnold, Larry, and Bill Walker.
The family will receive friends from 2-3pm on Sunday, Sept. 24 at Sossoman Funeral Home and Crematory Center.  The funeral will be held at 3pm in the Colonial Chapel of the funeral home.  Entombment will follow in Burke Memorial Park Mausoleum.
Memorial contributions may be made to Burke Hospice and Palliative Care, Inc., 1721 Enon Road, Valdese, NC 28690.
Sossoman Funeral Home and Crematory Center is assisting the family.
Condolences may be sent to the family by visiting www.sossomanfh.com.