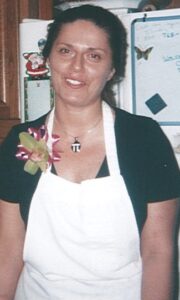 Monica Kristine Singer, 45, of Cherokee, passed away peacefully, Saturday, Sept. 2, 2017. A longtime resident of Cherokee, she was the daughter of William Richard and Monica Terry Garcia Singer.
She is survived by her fiancée, Jon Smith; one daughter, Delilah Smith of the home; mother-in-law, Mary Rich of Cherokee; and many extended family and friends.
Funeral Services will be held at 1pm on Saturday, Sept. 9 at Crisp Funeral Home Chapel. Rev. Merritt Youngdeer will officiate with burial at Crowe Cemetery.
The family will receive friends from 12-1pm Saturday at the Funeral Home.