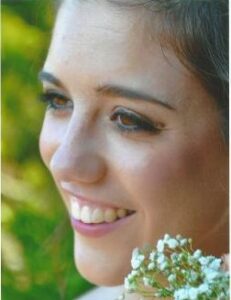 RALEIGH
– Lauren Ashley Nicole Hugelmaier, 29, of Raleigh, passed away Friday, Sept. 1, 2017. She was born on June 9, 1988, in Los Angeles County, CA.
Lauren was an active member of Hope Lutheran Church where she loved working with the Children's and Youth Ministries. She was a 2007 graduate of Swain County High School and later graduated from Appalachian State University. Lauren could always be heard saying that her nephews were one of the most important parts of her life and that she was one proud "auntie nini" followed closely by her love for her special fur baby, Cooper Hugelmaier. She was an Auditor with Quintiles, but one of her passions was her personal business with Scentsy. Lauren was always full of life and her big smile will be greatly missed by everyone she knew.
 A celebration of Lauren's life was held Monday, Sept. 4 at Hope Lutheran Church.
Lauren is survived by her parents, Dale and Laurie Hanks Hugelmaier of Raleigh; sisters, Beth Agner and husband Josh of Raleigh and Briana Evans and husband Bryan of Raleigh; nephews, Ethan Evans, Christopher Hugelmaier, Bentley Agner and Finn Franklynn Agner; aunts and uncles; Glen Hugelmaier of CA, Thomas and Adele Hanks of WV, Frank Hanks of Canada, Cathy Hanks of Sylva, Jim and Debbie West of Cherokee, John and Barbara West of Cherokee, Annie and Mike Bekstrom of CA, Suzie Hanks of CA and Hector Garcia of Mexico; special friends, Ashley and Kirk Nickerson and Arthur and Laurie Trible.. She was preceded in death by paternal grandparents, Glen and Dorothy Hugelmaier; maternal grandfather, Joseph Hanks; maternal grandmother, Donna West and her aunt, Margaret Hugelmaier.
Flowers are welcome or memorial contributions can be made to Hope Lutheran Church, Children's and Youth ministries, 3525 Rogers Rd, Wake Forest, NC 27587