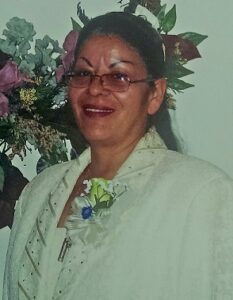 Lida Fay Locust, 60, of Cherokee, passed away unexpectedly following a short illness on Friday, June 23, 2017 around midnight at Mission Hospital in Asheville. Fay was attended by her faithful sons.
Born on Aug. 19, 1956, Lida was commonly known by Fay to those that knew her.  Fay was born to the late Edwin Walkingstick and Esther (Swayney) Walkingstick of Cherokee.  She was a member of the Bethabara Baptist Church and a resident of the Birdtown Community of Cherokee.  Fay was a loving mother, sister, grandmother and friend to those she touched.  She worked as a waitress in her time living in Asheville and had trained as a Certified Nursing Assistant which she applied for some time.  Her main livelihood though was she was a homemaker and a caring mother.
Fay is survived by her children, John Locust (Cindy) of Cherokee, Rickman Noah Locust of the home, Andrew Locust (Randi) of Cherokee, Arlene Locust Lanning, Doe Locust and Deb Locust Lee (Lewis) all of Cherokee; brothers, William Walkingstick (Wanda) of Maryville, Tenn., Dwight Walkingstick (Patricia) of Cherokee, Donnie Walkingstick (Opal)(Dec.) of Duncan, Okla., Jerry Walkingstick of Stone Mtn., Ga., Tony Walkingstick of Cherokee, and Ronnie Sellers Walkingstick of Maryville, Tenn.; sisters, Linda Walkingstick of Weaverville, and Lois May (Ray) of Franklin; aunts, Inez Wolfe and Marie Swayney of Cherokee; sister-in-law, Edna Hornbuckle and a special family friend, "Daniel Boone". Also surviving are numerous grandchildren and great-grandchildren.
Aside from her parents, Fay was preceded in death by a one sister, Teresa Riviera.
A funeral is planned at Bethabara Church on Tuesday, June 27 starting at 12pm.  A burial will immediately follow in the newly announced Lida Fay Memorial Hill near Fay's home.  Pall Bearers will be among the family and friends.  Furman Smith will officiate all services.
Long House Funeral Home is providing assistance to the family.