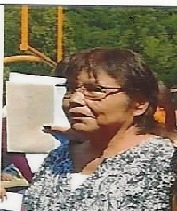 Arnessa Mae Littlejohn Wilnoty, 62, of Cherokee, passed away unexpectedly Wednesday, June 14, 2017 at the Cherokee Indian Hospital.
Arnessa was a very loving and kind mother.  She had many friends who loved her for her silliness, always making people laugh.  She loved her family, friends, and especially great grandkids, nieces and nephews.  She always opened her doors to friends that needed a place to stay.  My mother will be greatly missed by family and friends that knew her.  May she rest in peace.
Arnessa is survived by her daughter, Frances Littlejohn; her companion, Robin Toineeta Jr.; six grandchildren, Amber Sherrill, Devan Sherrill, Justina Bigwitch, Justin Littlejohn, Camden Owle, and Shira Littlejohn; three great-grandchildren, Ayeisha Shell, Cole Shell, and her very very special great granddaughter, Hayden Littlejohn; three sisters, Betty Locust and Yohnie Squirrell, both of Cherokee, and Laura Saunooke of Robbinsville; one uncle, James Bigwitch; and a special friend, Marina Jumper, of Robbinsville.
She was preceded in death by her parents, Owen and Agnes Littlejohn; two sons, Gary Littlejohn and Kirk D. Smoker; two brothers, Ammons and Johnson Littlejohn; and one sister, Annabell Cucumber.
Funeral services were held Saturday, June 17 at the Macedonia Baptist Church with Pastor Noah Crowe officiating.  Burial followed at the Littlejohn Cemetery on Washington Creek.  Pallbearers were special nephews and friends.