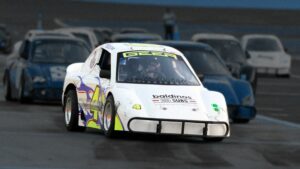 Principal Chief Richard G. Sneed announced on Tuesday, June 13 a partnership with U.S. Legend Cars International to send Cherokee youth to a driving school being held in late July at the Charlotte Motor Speedway.  U.S. Legend Cars International is the largest manufacturer of race cars in the world, and is the exclusive producer of the Legends Car, Bandolero, Thunder Roadsters and Legends Dirt Modified Cars.
"This is a great opportunity for our Cherokee youth to have exposure to the world of circuit racing while having a great time on the track," says Chief Sneed.  "This will be more than just putting them in a car and letting them go, they will be learning the science behind race car setups that will give them better insight into potential career interests."
The event, a 1-day Speed Camp, will be held on Wednesday, July 19 at the Charlotte Motor Speedway.  The test cars, called Bandoleros, are designed to give the full effect of track racing in a small-framed vehicle.  Students will learn components of the cars, and how adjustments to the cars can affect ride quality.  They will then race on the 1/5-mile oval track, a smaller track built inside the motor speedway.  For the first group of students selected for the program, Chief Sneed would like to identify troubled youth who could use the positive support and experience.
"No matter the circumstances that our children come from, they should all have opportunities to become something great," says Chief Sneed.  "This partnership is just the beginning of finding ways to get our youth exposed to the world; our job is to open doors and encourage the success of all of our Cherokee citizens."
Additional events will follow based on the response from the project.  Parents of children ages 11-16 who would be interested in the program should contact Paxton Myers, EBCI Executive Chief of Staff, 359-7029 or paxtmyer@nc-cherokee.com.  Information about this and other U.S. Legend Cars International events can be found at www.uslegendcars.com.
– EBCI Office of Communications