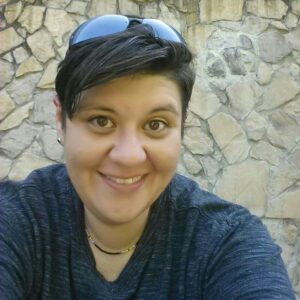 Amy Autumn Crowe, 33, passed away unexpectedly Sunday, June 4, 2017.
Amy was born and reared in Cherokee but resided in Mint Hill at the time of her death.  She was a member of Bethabara Baptist Church and got saved on July 14, 1994.  Amy was such a kind and loving person who never met a stranger.  She made people laugh, and sometimes she would make you laugh so hard that you would cry but it was good tears that she would give you.  She knew how to lift your spirit.  She was full of stories that I wished she would have written a book.  Because her kindness will be missed, she was a friend to many and her beautiful smile will be missed.  She was a ray of sunshine to a lot of people.  Maybe this was her purpose in life.
Amy is survived by her father, Eugene Harlan, and her mother, Jeanne Crowe Lira; one daughter, Marley Jais Crowe; step-father, Carlos Lira; one sister, Luci Lira; grandmother, Liz Crowe; uncle Albert and Lisa Crowe; uncle Tunney and Sarah Crowe; aunt Rhonda and Kenny Long; uncle Ed Walkingstick, all of Cherokee; special friend, Beth Kinney; cousins whom she thought of as her brothers and sisters, Summer, Rebecca, Izzy, Abb, Jr., Jake, Tyler, Paige, Gina, Nikki, and Travis; also many loving children of her cousins.
Amy was preceded in death by her grandfather, Gene Crowe; and one aunt, Sharon Crowe.
Visitation will be held on Wednesday, June 7 beginning at 5pm at the Bethabara Baptist Church where the body will remain until the hour of service on Thursday, June 8 at 11am.  Brother Denny Crowe, Brother Richard Pickup, and Brother James "Bo" Parris will officiate.  Burial will follow at the Birdtown Cemetery.  Pallbearers will be among family and friends.