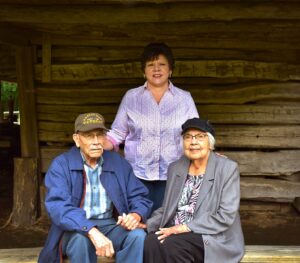 My name is Lisa Taylor.  I am the daughter of Frank and Charlotte Taylor. I'm a lifelong resident of the Painttown Community.  My parents taught me the importance of Jesus Christ, work ethics, community involvement, voting and to love one another. These are a few things my wonderful parents instilled in me.
I am a member of the Rock Springs of Baptist Church, I began working when I was 13 years old. My first job was at the El Camino motel working for Nathan and Ginger Robinson. I have worked in retail, Swain County Sheriff department, Cherokee Dispatch, National Park Service, volunteer fireman, first responder for eight years, and recently retired with 21 years of service at Cherokee Tribal EMS. I have degrees in Emergency Medical Services and Criminal justice.
I gave serious thought and prayer before deciding to file for Painttown Council representative. I believe the council seat is one of honor and should be treated as such. The people of Painttown places their council member in a seat and that is who the Council member should represent.
My main goal is to place the government back in your hands. I want to be the council member who raises my hand in your favor. I want to leave a legacy of outstanding representation for the people of Painttown and our tribe.
I make no promises that I cannot keep. It takes all of Tribal Council working together to accomplish great things for the people. I will be your voice and your vote as your Tribal Council member.
I am asking for your prayers, support and vote on June 1, 2017.
Respectfully,
Lisa Taylor
If you have questions and concerns please call, (828) 399-0267.
I look forward to hearing from you.