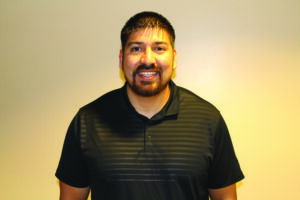 Si-yo, my name is Damian Solis; I am a candidate for the seat of Big Cove Council representative.  My wife Chasity and I have two sons Nicholai and Nathaniel with one more son on the way. My parents are Vivian West Solis and Guadalupe Solis; my grandparents were the late Alfred West and Geneva Wolfe West. I am currently employed with the EBCI Cherokee Fitness Complex as the Fitness Center Manager. I also own and operate Solis Landscaping & Tree Services and Big Cove Grocery. My educational background includes A.A.-College Transfer Degree from Southwestern Community College, B.S.-Sport Management with a focus in Exercise Science & Fitness Management with a minor in Cherokee Studies; and a M.S.-Exercise Science & Health Promotion from California University of PA. I have plans to pursue my Doctorate starting in January 2018.
Key characteristics of my platform include Accountability, Ethics, Honesty, Integrity, and Transparency. I feel strongly that any elected official should make these traits a top priority. Accountability has been a top discussion and I feel more information should be available to the public as long as it falls within established guidelines and policies for information that may be shared with enrolled members. Ethical conduct must be practiced and adhered to by any elected official and they should be honest with every enrolled member of this tribe regardless of whom an individual may support and always maintain a high level of integrity. Transparency is also key component, as an elected official, information should be made available to the public such as monthly reports and hosting public meetings so all enrolled members are aware and can become more involved with this tribe and have more input.
Below are a few areas I feel that we can work on as a tribe and I am also open to suggestions of other areas as well.
Economic Diversification-As a tribe, moving forward, we need to seek opportunities to advance our local economy as well as establish an identity to attract tourism. The casino is a great asset for our tribe and has afforded all tribal members many opportunities.  As a tribe, we need to continue to research and also perform feasibility studies on possible business ventures and opportunities. We also need to evaluate our return on our business investments and see how beneficial our investments are as a whole and evaluate the feasibility of them all.
Housing-In regards to tribal housing opportunities, we need to consider opportunities to expand our housing for all enrolled members as well as potentially expanding our land base acquisitions for housing purposes. As we continue to grow as a tribe, land ownership has become a limited opportunity for enrolled members. I believe it would be beneficial to improve upon our current processes for enrolled members to obtain land; as well as the timeframes improved to get them adequate housing if available. As a tribe we may consider purchasing deeded land off the boundary to provide necessary housing for our people due to the limited land availability of this tribe.
Drug Epidemic-As a tribe, we are currently facing a growing drug epidemic. I think the treatment center is a positive improvement and can help our tribe moving forward. I also feel that as a tribe we need to look into other ways to help recovering addicts and assist them with getting re-acclimated into society with a new outlook on life. Many families have faced the hardship and witnessed how drug and alcohol addiction can impact lives. I feel that we should explore opportunities to give individuals a second chance so they feel that there are still opportunities out there. An example may be a work program that requires individuals to attend classes, complete random drug testing and provide them an area of work to develop skills to rejoin the work force.
Youth Education and Opportunities-As we move forward into the future as a tribe, I feel that we need to invest in opportunities for our youth including educational, recreational, and professional skills development. Education should be a top priority we stress to all of our youth to take advantage of since the opportunities are available. Our children are the future of this tribe and I will support programs and opportunities to help our entire youth advance through education and life.
In closing, I am thankful for the opportunity to run for the seat of Big Cove Council Representative and I humbly ask for your support in the upcoming primary election on June 1, 2017. If you have any questions, concerns, or ideas, I would be glad to discuss them. I can be reached at (828)-788-7321.
Best Regards,
Damian Solis
Candidate for Big Cove Council