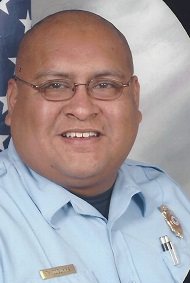 Heath "Ty" Oocumma, 41, of Cherokee, passed away unexpectedly Tuesday, May 16, 2017 at the Cherokee Indian Hospital.
Ty was a fluent Cherokee speaker, former member of Birdtown Crossing drum group, former member of Warriors of AniKituhwa, former employee of the Cherokee Fire Department, and former supervisor of DBLO Enterprises, L.L.C.
He is survived by his wife, Lucinda N. Bradley; parents, Wilson Oocumma and Pat S. Oocumma; one daughter, Hallie Oocumma (Sherry); three step-sons, Christopher (Ashley), Xaiver (Ashley), and Devan (Ashley); grandmothers, Dinah Oocumma and Mary Smith; special niece, LeAnn Simpson; special brother, Zach; surrogate sisters, Tiff and Tara; aunts, Vickie (Barry), Diane, Martha, Catherine, Fay, and Sherry B.; uncles, David (Anita), Allan (Brenda); great uncles, Gene, Sam, George, and Hillard; cousins, Nathaniel, Tristan, Joseph, Jason, Janelle, `Stass, Forrest, Kiera, Wendy, Brittany, Kamea, Izzy, Gabby, Wodi, Caiden, Silas, Ietan, Hayes, and Fern; his extended Choctaw family Wilma (James), Charlie, Jackie, Kendra, Kena, Boy, Sean, Bea and Ron Carson; his Kentucky family Deann, James, Caroline, and Mary; and Godparents, Jim and Ollie Bigwitch.
Ty was preceded in death by his grandfathers, Woodrow, John, and Ned; great grandmothers, Melinda and Mattie; and uncle, Ricky.
Visitation will be held on Thursday, May 18 beginning at 5pm at the Cherokee Wesleyan Church where the body will remain until the hour of service on Friday, May 19 at 11am.  Rev. Patricia Crockett and Rev. Stacy Woods will officiate.  Burial will follow at the Oocumma cemetery.  Pallbearers will be among family and friends.
In Lieu of flowers, to honor Ty's life, the family asks that tribute donations be made to the Juvenile Diabetes Research Foundation at www.JDRF.org/tribute; or the food pantry at the Living Waters Lutheran Church in Cherokee, NC, PO Box 2230, Cherokee, NC  28719.
Long House Funeral Home is assisting the Oocumma family.