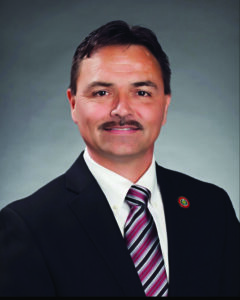 By PRINCIPAL CHIEF PATRICK LAMBERT
Thursday, May 9
I submit this report to the people of the Eastern Band of Cherokee Indians in writing as I am unable to attend the May session of Tribal Council on Thursday because of a particularly special reason.  As you may know, my son, Nelson Lambert, is graduating from his LLM Degree program at the University of Nevada Las Vegas School of Law, and he is being honored as a speaker for the graduation ceremony.  This is the highest level degree possible in Law School.  His accomplishment in achieving this degree is the first for our Tribe, and he is the first Native American in the entire United States to achieve an LLM degree in Gaming Law and Regulation in Law School.  Words cannot describe how proud Cyndi and I are of him and his accomplishments.  He is smart and has earned his education through hard work and determination.  A solid education and degree is something earned that no one can deny you sacrificed and worked hard and earned on your own.  So, congratulations to my son, Nelson, and also to all our graduates this year!  Keep working and reaching higher.  I am sponsoring our 2nd Annual Graduates Dinner in June for all this year's graduates.  Keep watch for this upcoming event.
This week will be the first session of Tribal Council I will not be able to attend since being elected.  I don't like missing a session of Tribal Council, but I cannot miss Nelson's graduation ceremonies.  So, I submit this report to you for your review.  A more detailed report of this past month's activities is available on my Facebook page, the Cherokee One Feather website, and at www.ebci.com.
There are many projects and initiatives my Administration is pursuing, and I want to share a few of those with you here today.
In keeping with the spirit of helping Cherokee families, I have been working diligently with the Treasury Department and all tribal programs to create a Fiscal Year 2018 budget.  Since coming into office, we have managed to save the Tribe a substantial sum of money through cutting wasteful spending, curtailing travel by emphasizing "train the trainer" models, and making huge cuts in credit card spending.  This trend is as true today as since I have taken office in October 2015.  Through our efforts, we have saved over half million dollars on gas, over $1,300,000 on travel, and we cut credit card spending in half; saving over $1.5 million on credit cards in the past 18 months.  Likewise, my proposal for paying off the Tribe's $96 million debt, the Tribe saved over $5 million in not having to pay bankers and interest fees on those loans.  I am looking to reinvest all those savings into Putting our Cherokee Families First projects such as: constructing a new, enlarged Head Start Daycare Facility for our children; construction of new classrooms, speaker meeting space, and a gymnasium for our Kituwah Academy; constructing a new Snowbird Complex for services to our families there; and construction of the new waterpark for our community pool and water fun area.
Over the past several weeks, I have made it a point to visit several of our tribal programs.  I enjoy these visits because it gives me an opportunity to see in real time the amazing work they do day-in and day-out.  Programs I have visited include: Facility Maintenance, Motor Pool, Sanitation, Air Quality, Tribal Construction, Inventory Offices, as well as the Qualla Housing Warehouse.  It was good to visit with everyone and to hear new ideas on how we can better deliver services to our people.  The suggestions from employees were sincere and well thought out, and I plan on discussing and implementing several of those new strategies with my Cabinet Secretaries right away.  Also, a highlight I had last week was that I got to spend part of the day with our Tribal Fish and Wildlife crews.  I had the opportunity to ride along with the men who keep our rivers and streams stocked with trout which helps to keep our local economy going.  It was great to see the pride in our men and how much they enjoy their work.  Make no mistake about it, the work they do is hard, physical work that requires teamwork, and I'm glad we have them leading our Tribe's effort to keep a critical piece of our economy working.
Of special note is two events that every tribal member can take pride in is that Mr. Jerry Wolfe, our Cherokee Beloved Man, is now Dr. Jerry Wolfe after this past Saturday, May 6, 2017, when he was awarded an honorary Doctor of Humane Letters at Western Carolina University's Commencement Ceremonies.  Likewise, this coming Saturday, May 13, 2017, Ms. Ella Bird, Beloved Woman, will become Dr. Ella Bird when she is awarded an honorary Doctor of Humane Letters from the University of North Carolina at Asheville.  These two Beloved People of our Tribe are a precious gift given to us by God, and we truly are blessed to have them with us, sharing their love and life experiences.  On behalf of the whole Tribe, we salute you Dr. Wolfe and Dr. Bird.
Lastly, this month we set aside a special time to recognize God's gift of motherhood.  Regardless of whomever you call you mother, whether it be grandmother, aunt, sister, cousin, neighbor, friend, or teacher, these ladies freely give their love and wisdom to us.  God makes no mistakes.  When He created the family, and when He created the mother, He gave us a glimpse of what unconditional love really means.  I am so thankful for my Mom.  She raised me, prays for me, and loves me no matter my faults.  I couldn't be more thankful and divinely favored than to have her as mine.  However, there are those who are without their mothers.  Maybe they have passed on and are with the Father in Heaven, or are away from home.  Whatever the circumstance may be, every person is deserving of love and understanding.  Let us recommit ourselves to that ideal that unconditional love is a God-given human value that we should strive and work towards ensuring that love reminiscent of a mother's love is afforded to all friends, family, and co-workers.  If we commit ourselves to that, we will be a better community and Tribe.  In honor of our mothers, I am hosting the 2nd Annual Mother's Day Celebration at the Cherokee Indian Fairgrounds on Saturday, May 13 starting at 12noon for a BBQ lunch and singing, followed at 1pm with a Poodle Show, and at 2pm we will have Bingo with prizes.  Please plan on joining us as we celebrate Mother's Day.
In closing, I want to thank everyone for your prayers and well-wishes over the past several months.  Know this: I remain committed and clear-hearted on what is most important to this Tribe…and, that is her people.  I will continue to stand for the truth and what is right.  I am more encouraged and committed now than ever before to ensuring this Tribe continues working for all Cherokee families, and I'm not going to stop fighting for you.  Again, thank you for all your prayers, and I'll be seeing you very soon.  God bless you and may God bless the Eastern Band of Cherokee Indians.  With warm and kind regards, I remain…
Sincerely yours,
Patrick H. Lambert
Principal Chief, EBCI