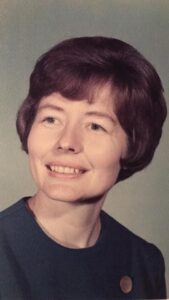 Lucy Lee McLaughlin, born March 11,1940 in Raton, NM, passed away on May 7,2017 at her residence. She was the daughter of the late Ernest and Mildred Buffington McLaughlin.
Lucy grew up in Sulphur Springs, Texas. After high school, she attended East Texas State University where she obtained her bachelor's of science degree in math and science in 1960. In 1964, she received her master's degree from Southwestern Baptist Theological Seminary on religious education. From 1960-62, she taught school in Lake Jackson, Texas. In 1962, she went on the mission field working with African American children. In 1964, she went to Cherokee as a missionary to Cherokee Baptist Church where she served as director of the day care program. In 1965, she was sent to do mission work in Denver, Colo. in a Hispanic church.
After her time in Denver, Lucy felt led to return to Cherokee so she left the mission board and returned to Cherokee as a missionary and school teacher.  Lucy was a school teacher with Cherokee Central Schools for 37 years. Among all her many accomplishments and recognitions received during her lifetime, Lucy was most honored by being made an honorary member of the Eastern Band of Cherokee Indians in 1988, and she was given the Cherokee name for "Beloved Teacher".  During her time in Cherokee, she was a Sunday school teacher, piano instructor, worked with youth groups, helped at Camp Cherokee, visited shut-ins, served on various boards including VOC, and was a member of Delta Kappa Gamma. In the summer when she wasn't teaching, she continued her mission work by helping with several church camps on other reservations including the Choctaw reservations in Mississippi and Oklahoma and she attended the Indian Baptist Missions Camp meeting annually. She was a humble servant of God who loved her Lord and Savior.
In addition to her parents, Lucy is preceded in death by two sisters, Margaret Driggers and Helen Ferguson; and her "foster" parents, Russell and Elizabeth "Lizzie"(French) Smith that took her into their family when she came to Cherokee as a missionary.
Lucy is survived by a brother, Paul McLaughlin (Millie); and three sisters, Lois Ferguson (Boyd), Joyce Bayless, and Dorothy Weaver (Gene).  In addition to her immediate, family Lucy is survived by numerous nieces and nephews and an extensive foster family in Cherokee as well as friends everywhere.  She will be greatly missed by her best friend, Katherine Smith and her sister Maxine Smith; her foster daughter Lizzie McCoy Bernal; son-in-law German Bernal; grandchildren Malaciah Taylor, Colby Yanez, Omar Yanez, Sidnie Yanez, Rachel Taylor, and Keisha Sogueco; and great grandchildren Evelyn, Gracelyn,Marvin, Dezmond, Levi, and Jaden.
Lucy's services will be held at Rock Springs Baptist Church. Visitation will be on Wednesday, May 10 from 5-10pm, and the funeral service will be at 1pm on Thursday, May 11. Burial will be at the Russell Smith Family Cemetery on Soco. Pastors Greg Morgan, Ed Kilgore, and Bo Parris will officiate.
Pall bearers will be Malaciah Taylor, Colby Yanez, Omar Yanez, Sam Wolfe, Rick McCoy, Terry Smith, Chebon Postoak, and Dylan Saunooke.
In lieu of flowers, donations may be made to either of the following organizations in memory of Lucy.  Indian Baptist Missions Fellowship PO Box 72 Canadian, OK 74425 or New Kituwah Academy in Cherokee NC for language revitalization.
Long House Funeral Home is assisting the McLaughlin family.