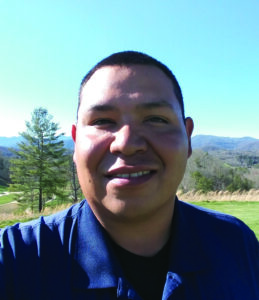 Shi-yo, Mi-ya-gi Tsim-shi A-wi-a-ni-da da-gwa-do, no-le I-yv Tsis-gwo-hi ge-i.
Hello, my name is Michael James Youngdeer.  I am 26 years old.  As I have the majority of my life, I proudly reside in the Birdtown Community, amongst family and friends.  My immediate living family consists of my mother Carmen T. Davis, my father Michael E. Youngdeer (Roscoe), step father Jack E. Davis, my maternal grandmother Alyne Tooni, and my paternal grandfather Edwin Bird (Tony).
I would like to express my gratitude for the opportunity and honor to be running for Tribal Council.  As one of the younger candidates, I am excited to campaign with the hope of bringing change within the Tribal Chambers.  We have all been witnesses to the ongoing dysfunction that is plaguing our Tribe, especially within our Tribal leadership.  So many of us feel our voices are going unheard and/or disregarded by the representatives we elected into office to speak upon our behalf.  I want to be your Tribal Council representative and will help make the necessary changes so that your voices are heard.  I am a part of the younger generation that is willing to step up and dedicate myself for the betterment of Our People.  Even through watching the ongoing political issues arise, I have not hesitated in my decision to run for Tribal Council because I know our leadership can be restored.  The future of our Tribe highly depends on the elected representatives' ability to be able to work together, even if our opinions vary and our communities' requests differ.  Our history has shown that our Tribal Government can be effective and work in unison but we must regain our voices in order to move past these embarrassing times that have been making the media headlines.  We, the Cherokee People, are strong and have weathered many obstacles.  We must focus on the future of our People and our lands so we are once again productive, proactive, and reside within thriving communities.  Many I have spoken with, especially our Elders, have expressed the need for change.  If elected, I will bring that change.  I will be available for you and represent your voices.  When I vote on behalf of Birdtown, I promise to vote as you have expressed.
As a Tribal Council representative, some of the issues I want to focus on are reducing the level of poverty, being a part of business growth on our land so the Tribe will have multiple forms of profitable businesses, work on utilizing and developing more comprehensive addiction programs, and promoting tourism. While these are but a few on what we can work on, being open to more ideas will surely help our Tribe thrive.
Poverty should not be an issue that any enrolled member should have to face.  The introduction of early distribution for per-cap has helped so many already and I hope to further promote that program.  I would like to assist in ensuring enrolled members have opportunities for employment.  Our veteran and our preference status has to be applied in all circumstances of the application process.  It cannot continue to matter who you are and who you know.  The applicant that gains the employment should be the most qualified for the position when following our established hiring protocols. I hope to familiarize our People with all the Tribal programs that are available to them.  I am in favor of housing for the Tribal programs at the old Cherokee High School because I feel if people know where to go, we can get them screened for programs and services that they qualify for. Having these programs under one roof will reduce the expenditure cost of having multiple buildings for all of our assets as well as less headaches for those having to visit multiple areas within the tribe.
Analenisgi Recovery Center is an excellent resource for our Tribe.  We have multiple programs and services available through Analenisgi to assist in combatting addiction, handling and living with mental illnesses, rescue from domestic violence situations, family and individual therapy in a variety of session options, medication management, and comprehensive classes to inform, teach, treat, assist in sobriety, and more.  Unfortunately, our People are not using these services as much as we would like to see.  We must make entry into Analenisgi Recovery Center be a part of the solution, especially for addictions that are continually growing. We should also expand on services being offered by Analenisgi Recovery Center through incorporating our cultural ways and heritage into the overall treatment, healing, and teaching processes. To have a local housing unit there for recovering addicts and offenders with the help of Analenisgi's recovery program, it will help those in need of recovery so that they will stay the main course to a full life waiting for them on the other side. The road to recovery is hard for most, but I have personally seen the effects it has on those who push with vital support from others, the amount of gratitude to be clean and back into a world where they can thrive.
Potential income to help our Tribe grow comes by establishing new businesses on our lands that are owned and managed by ECBI.  We also need to be attracting other established companies to our towns.  Our People and others are spending the money at businesses, so why not bring and capitalize on that spending on our land?  We have enrolled members and tourists that leave our lands to go to other towns to shop, eat, and to attractions that are family friendly.  As a Tribe, we need to be providing more business options and additional attractions. We do not have to lose or dishonor our heritage through expansion and business growth.  We will continue to expose ourselves and our visitors to who we are as a people through the cultural destinations and events that we already have in place.
In this day and era, having leaders to look up to while being confident in their abilities to work together to do what is best for our Tribe, not just a select few, is of upmost importance. Our leaders must listen to all and be transparent about what they are asked to do, no closed door policies.  If you have questions on these platforms or my views, opinions, and ideas, or information/recommendations for me – I'M HERE to listen, so let's bring "An Honest Change" back to our Tribe.
Do-nv-da-go-hv-i