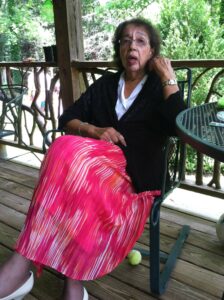 Mary Hazel Lambert, 82, of the Birdtown Community in Cherokee went home Tuesday, May 2, 2017 at her residence with her loving family by her side.
Mary was a foster parent providing care for EBCI children.  She worked outside the home as a factory worker for the Cherokees, manufacturing moccasins.  She departed from this job to care for her father Herman until he passed away in 1985.  Mary was then an employee for Cooper enterprises as a housekeeper until she retired.
Mary is survived by her daughter, Pamela Lambert (Herbert); one son, Steven G. Lambert (Kristi); two special sons, Dale French Jr. and Ronnie Lambert; grandchildren, Shandrea Squirrell, Naschia Lambert, Steven Lambert (Bubba), Phillip Lambert, Meli Lambert, and Nathaniel Lambert; one great granddaughter, Juniper Morales; one brother, Ronald Lambert; a very special sister-in-law, Bernice Lambert; a very special friend, Betty Feather; and numerous nieces and nephews also survive.
Mary was preceded in death by her parents, Herman Lambert and Amanda George Lambert; one sister, Geraldine Jenkins; four brothers, Thomas, David, Leslie, and Michael Lambert; one niece, Theresa D. Brady; and four nephews, Raymond Jenkins, Mark T. Lambert, David H. Lambert (Crock), and Adam E. Lambert.
Visitation will be held on Thursday, May 4 beginning at 5pm at the Bethabara Baptist Church where the body will remain until the hour of service on Friday, May 5 at 11am.  Pastors James "Bo" Parris and Logan Parton will officiate.  Burial will immediately follow at the Mary Lambert Family Cemetery.  Pallbearers will be Silas Brady, Herb Squirrell, Emmett Jenkins, Thomas Lambert, Jim Lambert, and Michael D. Lambert.
Long House Funeral Home is assisting the Lambert family with the arrangements.