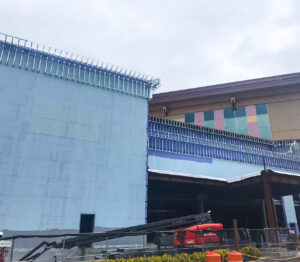 April began one of the busiest times onsite to date for the Harrah's Multi-Tainment Center (Bowling Center) construction team as nearly all subcontractors have made an appearance onsite, with the exception of flooring and stone.
The painting subcontractor has already finished painting all exposed ceilings in the renovation. This marks the completion of all overhead mechanical, electrical and plumbing (MEP) systems in the renovation space. The team will continue to work in the space with the buildout of two party rooms and arcade space, as well as framing the booths that will surround the new dining space.
The addition's new construction is also in full swing. Nearly 90 percent of the walls have been framed on the second floor, with in-wall plumbing and electrical finishing up shortly after framing completes. Framers have also finished 50 percent of the walls on the first floor.
The MEP subcontractors have also been working to complete overhead activities on the second floor this week in preparation for insulation next week. Then, they will continue with overhead activities on the first floor.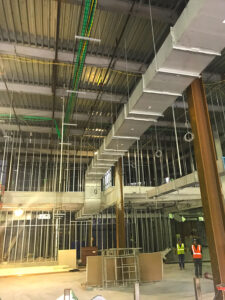 In the third week of April, the team successfully completed the sanitary line relocation that fed both the casino and the new addition. This concluded the shutdown of the north road. Additionally, the road was completely removed and repaved with the binder surface for the new road. Its final paving with take place at the end of construction to ensure there is a fresh layer of asphalt for opening day.
April also marked the completion of the roof installation and the placing of the mechanical roof top units. The roof installation will keep the facility interior dry and will ultimately allow the construction team to proceed with the phases of construction that could be damaged by inclement weather. Once the addition is ready to open to the public, the mechanical rooftop units will provide heat and cooling to both floors.
All of these installations and processes have worked in tandem to prepare the facility for May, which will be the last month of construction before the bowling lanes are scheduled to arrive in June.
– Harrah's Cherokee