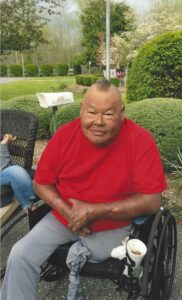 Richard Terry Reed, 66, of Cherokee passed away unexpectedly, yet peacefully, in the early hours of Friday, April 28, 2017.
He was the son of the late Noah Reed and Dora (Crowe) Reed of the Cherokee community.  Richard was known as Terry to most that knew him.  He was a member of Waterfalls Baptist Church.  Terry loved life and loved his family.  He will be missed by those that knew and loved him.
Surviving are his daughters, Kim Crowe with husband Bo, Vita Reed and TJ Reed all of Cherokee; brothers, Jessee, Ronnie, Doug Reed and Barry Reed with wife Vicki all of Cherokee; one sister, Pam Reed with husband Norman of Cherokee; grandchildren, Dre Crowe, Boie Crowe, Kinley Crowe, Kimbo Crowe, Acacia Reed, Kaniah Reed, Chayton Ledford and JJ Ledford all of Cherokee.  Terry also leaves behind his friends at Tsali Care and the Dialysis Center.
A visitation is planned for Saturday, April 29 at the Big Witch Baptist Church on Big Witch Rd. in Cherokee.  Start time will be 5pm for the general public.  Terry will remain at the church until the hour of service on Sunday, April 30 at 2 pm.  Pastor Ben Reed will officiate the services.  An immediate burial will take place in the Reed Cemetery along Big Witch Rd. with pallbearers being among the family and friends.
Long House Funeral Home assisted the family in the final arrangements.