By SCOTT MCKIE B.P.
ONE FEATHER STAFF
Devalyn Raylene Crowe, an EBCI tribal member and Yakama Nation descendant living in Washington state, will be seeking the Miss Indian World title at the upcoming pageant which starts on Thursday, April 27 in Albuquerque, NM as part of the Gathering of Nations Pow Wow.  An avid rodeo participant, she held the title of Miss Indian Rodeo 2014-15.
"I decided to run for Miss Indian World to experience something new and to meet new people along the way," said Crowe.  "Also, I decided to run because hearing stories of the experience my mom had when she ran 29 years ago made me want to take that chance to have memories that will last a lifetime."
She is currently employed as a legal assistant with the Yakama Nation Public Defender Office, a position she has been in for a year.  Crowe is also the Toppenish Jr. Rodeo Queen coordinator, a title she held in 2011.  In rodeo, she has participated in many events from her specialty of barrel racing to even trying bull riding.
"With balance and good choices, you can be successful at anything you set your mind to as long as you're dedicated and willing to pour your heart out into what you're doing," commented Crowe.  "What I mean by this is growing up we did a little bit of powwowing, rodeoing, as well as walking our traditional walk at the same time.  With balance and good choices, we were able to make them all work together."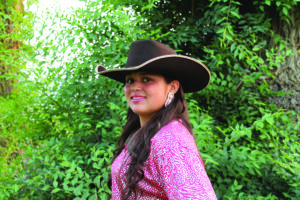 Those traditional teachings are something she plans to bring to the pageant as well.  "My platform I will bring as Miss Indian World would be to never forget where you came from and your traditional teachings because those make you who you are.  Keeping these things in mind will help you make good choices and help you find balance in today's world to be successful."
In looking beyond, Crowe noted, "Some of my future plans are to further my education in the legal field, continue to be the best role model I can to my nieces and nephews as well as other youth, strive to be the best person I can be every day, and strive to keep learning our traditional ways so they don't die."
The Miss Indian World pageant starts with traditional presentations on Thursday, April 27 at 7pm at the Kiva Auditorium in the Albuquerque Convention Center.  Admission is $15 for the show which will be hosted by Jason White House and Lisa Meeches.  More information on that event and the Gathering of Nations Pow Wow can be found at www.gatheringofnations.com.
Crowe joins fellow EBCI tribal member Karyl Frankiewicz (https://www.theonefeather.com/2017/04/frankiewicz-to-vie-for-miss-indian-world/) as a contestant in this year's Miss Indian World pageant.  They are joined by 25 other contestants (https://www.powwows.com/2017-miss-indian-world-contestants-gathering-nations-pow-wow/).