By SCOTT MCKIE B.P.
ONE FEATHER STAFF
The mother of three Cherokee children who kidnapped them and took them to Mexico has been sentenced to two years in federal prison after pleading guilty to one count of International Parental Kidnapping.  Shira Elizabeth Mattocks, aka Shira Elizabeth Raman, entered the plea in front of U.S. District Court Judge Martin Reidinger in Asheville federal court on Thursday, April 13.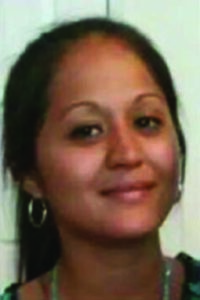 She was originally indicted on three counts of International Parental Kidnapping in a Bill of Indictment filed in U.S. District Court in July 2016, one month after her arrest in Mexico.  The criminal complaint filed with the indictment stated that Ms. Mattocks fled to Mexico "in an effort to evade her child custody responsibilities".
The Criminal Complaint filed against Ms. Mattocks stated that she had child custody disputes with two men – Jonathan Reed Mattocks, the father of Evelyn Grace Arneach, and Donald James Owle, the father of Samuel George Owle and James Paul Owle.  The children were missing from November 2014 until their return in June 2016.  At the time of their kidnapping, Evelyn was three-months-old, James was 8 and Samuel was 6.
Of Ms. Mattock's sentencing, Jonathan Reed Mattocks told the One Feather, "I would like to thank the Cherokee Indian Police Department and Tribal Court for their tireless work in helping locate the children.  I am glad that the children are home safe and recovering well from the events they were put through.  The safety and well-being was and will always be my primary concern."
Background
According to the Criminal Complaint, early on in the investigation, Cherokee Indian Police Department officers contacted various members of Ms. Mattocks family in an effort to locate her and the children.  "According to CIPD Detectives, those family members indicated they knew where Shira and the missing children were, but they (family members) were confrontational and not helpful.  The CIPD investigation began to yield indicators that Shira and Teresa (Arneach, Shira's mother) had fled the United States (U.S.) to Mexico…"
Shortly thereafter, charges were filed in Tribal Court against Ms. Mattocks including one count of Failure to Obey a Lawful Court Order and two counts of Custodial Interference.
Teresa Arneach was arrested at Ms. Mattock's residence in Cherokee on May 27, 2015.  Charges were filed in Tribal Court against her including two counts of Criminal Conspiracy, two counts of Custodial Interference, and one count of Failure to Obey a Lawful Order of the Court.  The One Feather reported that those charges were Dismissed with Leave to Refile on March 9, 2016.
The Complaint states that Teresa Arneach's phone was seized upon her arrest by CIPD officers.  "A tribal search warrant was obtained and certain data was exploited from the phone which further validated CIPD officers' belief that Shira had fled to Mexico.  According to CIPD Detectives who reviewed the phone, there were text messages reflecting communications via a phone number which appeared to be a number from Mexico.  The text messages indicated Shira was near Tamazula, Mexico."
CIPD officers contacted the FBI in June 2015 and requested their assistance, and on July 2, 2015 an international parental kidnapping case was opened by the Bureau.
In October 2015, FBI officials interviewed Maria Arias Negrete, the mother of Jose Arias who is the ex-husband of Arneach.  She allegedly told them that Ms. Mattocks and the three children were staying near her home in Tamazula, Jalisco, Mexico.  "At some point, around the middle of 2015, Maria personally observed Shira and her three children temporarily residing in the area of Maria's home residence…" the Complaint alleges.  "While there, Shira was living with Maria's grandson, David Villa Rivera, with whom Shira had developed some type of intimate relationship."
Starting in March 2016, a confidential source began an investigation and tracked Ms. Mattocks and Rivera whereabouts through interviews with various family members of Rivera in Mexico.  Ms. Mattocks was arrested in June 2016, and the children were returned to their fathers shortly thereafter.
Federal prison sentences are served without the possibility of parole.  Once released, Ms. Mattocks will undergo one year of supervised release.