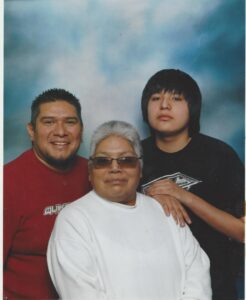 Nancy Edwina Jumper Poncho, 59, of Cherokee, passed away unexpectedly Sunday, March 19, 2017 at the Cherokee Indian Hospital.
She was born Aug. 21, 1957 in Swain County to the late Ute Jumper Jr. and Lily Sampson Wolfe.  Nancy worked at the Day Care and at Harrah's Cherokee Casino.  She also enjoyed baking and cooking.  She loved to do crafts.
Nancy is survived by two sons, Michael Anthony Jumper and Nicholas Tyler Poncho; four grandchildren; brothers, Charles (Hoss) Jumper, Robert Swayney, Ben Swayney, Leroy Jumper, James Jumper, Jim Jumper, Matthew Jumper, and John Paul Jumper; sisters, Mary Poppins Evans and Reba Rattler; two aunts, Gwendolyn Wildcatt and Joann Kalonaheskie; 29 nieces and nephews; 39 great nieces and nephews; three great great nieces and nephews; and her special pet, Jazzy.
In addition to her parents, Nancy was preceded in death by brothers, Gilbert and Talmage Jumper; and one sister, Laura Lee Jumper.
Visitation will be held on Thursday, March 23 from 1-2pm at Bethabara Baptist Church with funeral services to follow at 2pm.  Pastors Richard Sneed and James "Bo" Parris will officiate.  Burial will follow at the Crowe Cemetery on Bigwitch.  Pallbearers will be among family and friends.
Long House Funeral Home is assisting the Poncho family.