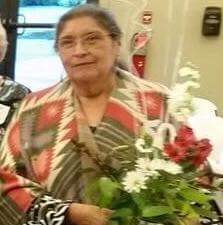 LaWanda Sue French Myers, 70, went home to be with the Lord and her heavenly home on March 13, 2017. LaWanda was born Sept. 27, 1946 in Cherokee. She will be greatly missed by the many who knew her. She was a graduate of Cherokee High School and Montreat College. LaWanda was an educator by profession having worked and retired from Cherokee Central Schools. She was also a small business owner, along with her husband Jimmy, having owned several craft shops in Cherokee and Dillsboro. She was always a giving person remembered for putting others needs ahead of her own, and she was affectionately known by her many students simply as "Aunt Wanda" and "Granny."
She is survived by her sons, James Paxton Myers III of Sylva and Barak Norton Myers of Cherokee; her sister; Karen French-Browning (Johnny) of Cherokee; brothers, Walter French (Brenda) and Richard French (Angie) both of Cherokee; brother-in-laws, Joseph F. Myers (Jane) of Tallahassee, Fla. and Jeffery B. Myers (Ginger) of Bryson City; and sister-in-law, Sharon French of Cherokee. Also surviving are special nieces, Chrissy Owle Lambert (James) of Cherokee, Brittany French Beck (Jordan) and Madisyn French both of Sylva, and Kayla Ann Myers McMahan (Scotty) of Bryson City; special nephews, Hunter Lambert, Trace Lambert (Kacee) and James Tay Lambert all of Cherokee; several aunts and uncles; several other nieces and nephews; as well as several dear friends and her "adopted children" as she referred to them, Brandon Stephens, Jake Stephens, Brian Saunooke, Annette Saunooke Clapsaddle, Charles Reagan, and Timiyah Brown.
She was preceded in death by her husband, James "Jimmy" Paxton Myers Jr.; her parents, Rev. Roy D. French and Mary Swayney French of Cherokee; brothers, Edwin LeRoy "Peanut" French and Michael Ray French both of Cherokee; as well as by her father and mother-in-law, James "Jim" Paxton Myers Sr. and Ida Ann Bain Myers of Bryson City along with several aunts and uncles.
Funeral services will be held on Friday, March 17 at 2pm at Chief Joyce Dugan Cultural Arts Center with burial to follow in the Swayney Family Cemetery. The family will receive friends on Thursday, March 16 from 5-10pm at Appalachian Funeral Services in Sylva.
Pall Bearers are Hunter Lambert, Trace Lambert, Tay Lambert, Jesse Toineeta, T. Brandon Stephens, Jake Stephens, Brian Saunooke, Charles Reagan, Alan B. Ensley, and Michell A. Hicks. Honorary pall bearers are Reign French and Blake French.
In lieu of flowers, please make donations to the National Kidney Foundation at www.kidney.org or to the Circles of Hope, Mountain Projects, 2251 Old Balsam Rd., Waynesville, NC 28786
Appalachian Funeral Services and Crematorium is serving the family.