By SCOTT MCKIE B.P.
ONE FEATHER STAFF
Tsaladi Sequoyah is an imposing figure on any basketball court and a rebounding machine.  The 6'10" EBCI tribal member recently finished a four-year career at Haskell Indian Nations University, and he left a mark on the Indians' record book.
Sequoyah played four seasons at Haskell starting in the fall of 2013 following a red-shirt season at Northeastern State University (2012-13 season) in neighboring Oklahoma.  He leaves Haskell as the school's all-time leading scorer (1,404 points) and rebounder (735).
"I have been playing basketball virtually all my life, starting with Yellowhill Community ball," he said.  "A love for the game has kept me playing this long."
In 114 games at Haskell, Sequoyah averaged 12.3 points per game and pulled down 6.4 total rebounds/game.  His career best game came on Nov. 18, 2016 against Mid-America Christian (Okla.) where he scored 29 points, a feat he would do three times in his career, and he pulled down 18 total rebounds, nine of which were defensive.
For this senior season (2016-17), Sequoyah ranked in several categories in NAIA Division II as follows:
Defensive Rebounds, 23rd, 6.393/gm
Total Rebounds, 25th, 8.750/gm
Field Goal Percentage, .570
Total Rebounds, 41st, 245
His career achievements reflect his work ethic.
"Basketball was always like a full-time job to me, and that's how I treated everything involving basketball from pre-season workouts, to in-season things like watching film, studying my opponents and maintaining my body, all the way to the end of off-season training," said Sequoyah.  "For me, basketball is just something that I love doing and is something that I am going to continue to do for as long as I'm able."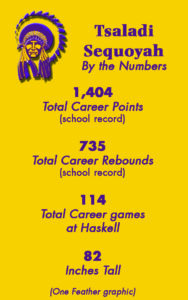 He is majoring in indigenous and American Indian studies with an emphasis in social work, and he is set to graduate from Haskell this May.  Sequoyah hopes to be able to continue playing basketball at the next level.
"I recently got invited to attend a combine in Dallas, Texas this summer in hopes to get picked up by a professional team."
He does have other goals as well.  "I plan on playing professional basketball after I graduate, but if something happens to where I am not able to, I plan on attending the University of Kansas and receive a master's degree in social work.  My goal is to work with the Eastern Band of Cherokee Indians and other tribes involving the Indian Child Welfare Act (ICWA)."