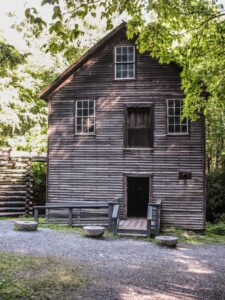 Great Smoky Mountains National Park is enrolling volunteers to offer visitors historic orientation and information at Mingus Mill. The Mill is located one half mile north of the Oconaluftee Visitor Center near Cherokee North Carolina. This opportunity provides volunteers the skills to assist Great Smoky Mountain Association (GSMA) in educating visitors about the general role of milling in the Smokies and specifically the turbine wheel at Mingus Mill.
Mingus Mill, built in 1886, offers visitors a unique look into the inner workings of a mill that custom ground everything from corn to wheat or rye. The intricacy of the mill provided customers with traditional ground cornmeal or flour in a fraction of the time needed by other types of mills.
Volunteers will work alongside GSMA employees. Each volunteer is asked to work at least one, four-hour shift per week from 11am – 3pm during the peak visitation season from April through the end of November.
Interested persons will be provided orientation and training before beginning at the mill.  New volunteers are required to attend training on Monday, March 20 from 9am – 3pm.  The training will be held at the Oconaluftee Administration Building near Cherokee.
A lunch break will be in the schedule, please plan to bring a bag lunch.
Please call to reserve space for training.
Info: Park Resource Education Ranger Florie Takaki 497-1906 or florie_takaki@nps.gov
– NPS